Data Center - Thailand
Colocation Service
Our world-class data centers provide a high-quality and full-scale colocation service.
True IDC's data centers offer colocation services where clients can install their own computers and servers on our premises as if you have your own data center. We will provide the needed electricity, air-conditioning, back-up power, 10-layer security and an advanced monitoring system to ensure the continuous and smooth running of your computers and servers 24x7. Your computers and servers will be placed on the largest network where data can easily be rerouted to find the fastest way to reach users. True IDC provides 4 kinds of data center deployment to suit different IT requirements;
1. Retail Colocation
The suitable choice to improve the reliability, performance, and security of your IT infrastructure from small to middle scale
2. Wholesale Colocation
The right answer for a need of large space or resources to operate large-scale IT requirement
3. Built-to-Suite Colocation
The custom data center designed to suit specific requirements as well as equipped with specialized facilities and services
4. Hyperscale Colocation
The exclusive data center designed to address a high level of redundancy, security and power density to ensure high availability of hyperscale and OTT applications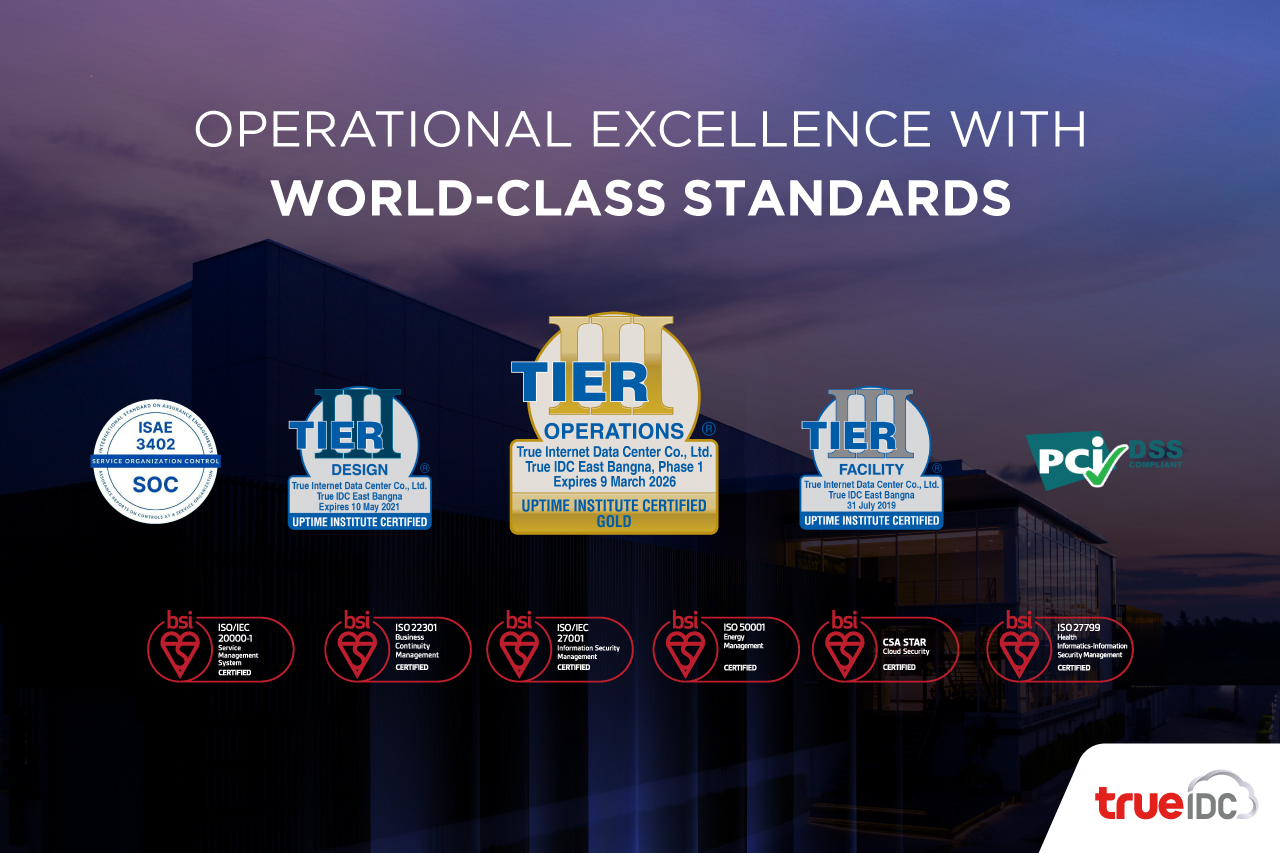 True IDC has up to 4 data centers that are designed according to Uptime Institute standards and are Tier III certified in Design Documents, Constructed Facility and Operational Sustainability (Gold). Our data centers have received as much as 8 certifications including
ISO/IEC 20000-1: Guarantee consistency and best practices for IT service management systems, reliable service and systematic working cycle
ISO/IEC 27001: Guarantee data assets management and protection through a robust framework to ensure high data security
ISO 22301: Ensure business continuity including the management service system, threats reduction and recovery from disrupted events
ISO 50001: Focus on efficiency of energy management by reducing greenhouse gas emissions, optimizing energy costs and minimizing other environmental impacts
ISO 27799: Guarantee security of health information with strict measures to manage processes related to risk environment of health information to maintain confidentiality, accuracy, completeness and availability
ISO CSA-STAR Cloud Security: Ensure security of Cloud services including system availability, technical security, data privacy, and risk management. This certification is based on ISO/IEC 27001 which covers data center management
PCI-DSS: Guarantee security of payment card or credit card information by controlling standards for the storage, processing and transmission of card information to prevent potential fraud
ISAE 3402 SOC 2 Type II: Guarantee qualifications in controlling data on IT services under 5 principles: security, availability, confidentiality, processing integrity and privacy
Throughout our past 20+ years in this business, our client list spans to include as much as 500 large-scale organizations.