Data Center - Thailand
Google Cloud Interconnect
Secure and closer connectivity to Google Cloud with True IDC. First Time directly from Bangkok!
Google Cloud Interconnect (GCI) extends customers' on-premise networks to Google's network via a highly available and low latency connection. By being the official Google Partner Interconnect, True IDC can now provide connectivity from Google Point of Presence (PoP) in Bangkok directly to the Google Cloud network overseas. This allows customers to access GCI service with superior experience, better cost-efficient and more convenient than ever.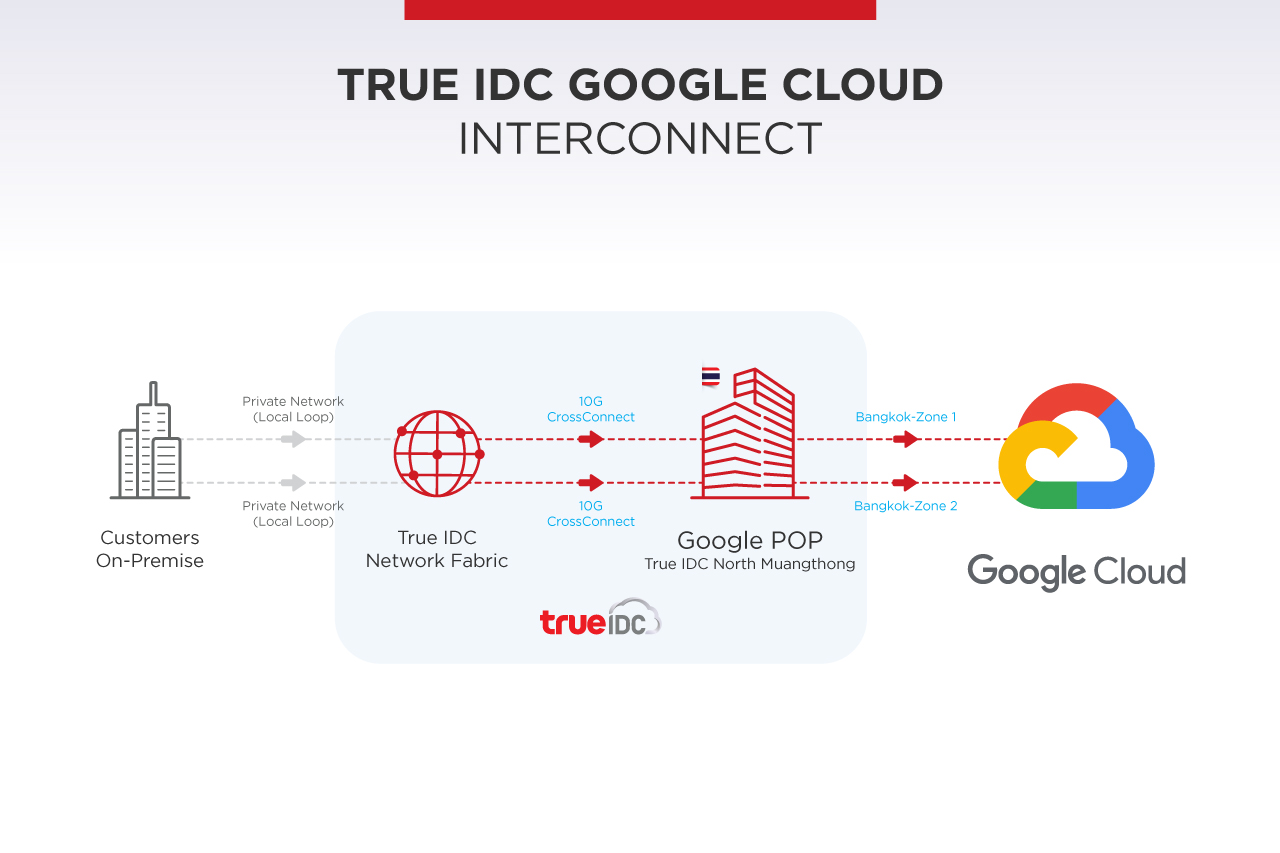 Key Highlights
End-to End Private Connection - The traffic from customers' on-premises or any data center is secured by a private network e.g. MPLS to Bangkok's Google PoP which routes privately to any Google Cloud Regions. Customers can be assured that the data is secured End-to-End.
Lower Latency & Better Stability - By bypassing the public internet, customer's traffic takes fewer hops, so there are fewer points of failure where their traffic might get dropped or disrupted. The traffic over the private End-to-End connection can ensure the stability of network with lower latency than public internet.
More Cost Efficiency - Unlike traditional interconnect where is no PoP on local that the cost always includes the International Private Leased Circuit or IPVPN service fee, True IDC's GCI charges only local connection in Thailand to Bangkok's PoP. Customers therefore can gain more experience of higher bandwidth with lower cost.
Make it easy for Hybrid Cloud Solutions - From True IDC Data Center with advisory and consulting from Cloud Professional Service team, customers can use on-premises colocation or True IDC Cloud Service on local to connect through GCI seamlessly to Google Cloud.
Other Features
Flexible bandwidth options from 100 Mbps to 10 Gbps
Optional of single VLAN and multiple VLAN with redundancy
SLA assurance by Google
24/7 monitoring and support by True IDC Regional Command Center