Data Center - Thailand
AWS Direct Connect
Your Reliable AWS Direct Connect Partner in Thailand
True IDC is now officially an AWS Direct Connect partner in Thailand. We are thrilled to announce our new partnership with Amazon Web Services (AWS) as a network connection Provider for AWS Direct Connect. With our expertise and dedication to delivering high-quality networking solutions, we aim to provide seamless connectivity to AWS for businesses in Thailand and in SEA region.
What is AWS Direct Connect?
AWS Direct Connect is a network service offered by Amazon Web Services that enables organizations to establish a dedicated and private connection between their on-premises network or data center and AWS. This direct connection bypasses the public internet, providing a more reliable, secure, and low-latency network link to AWS services.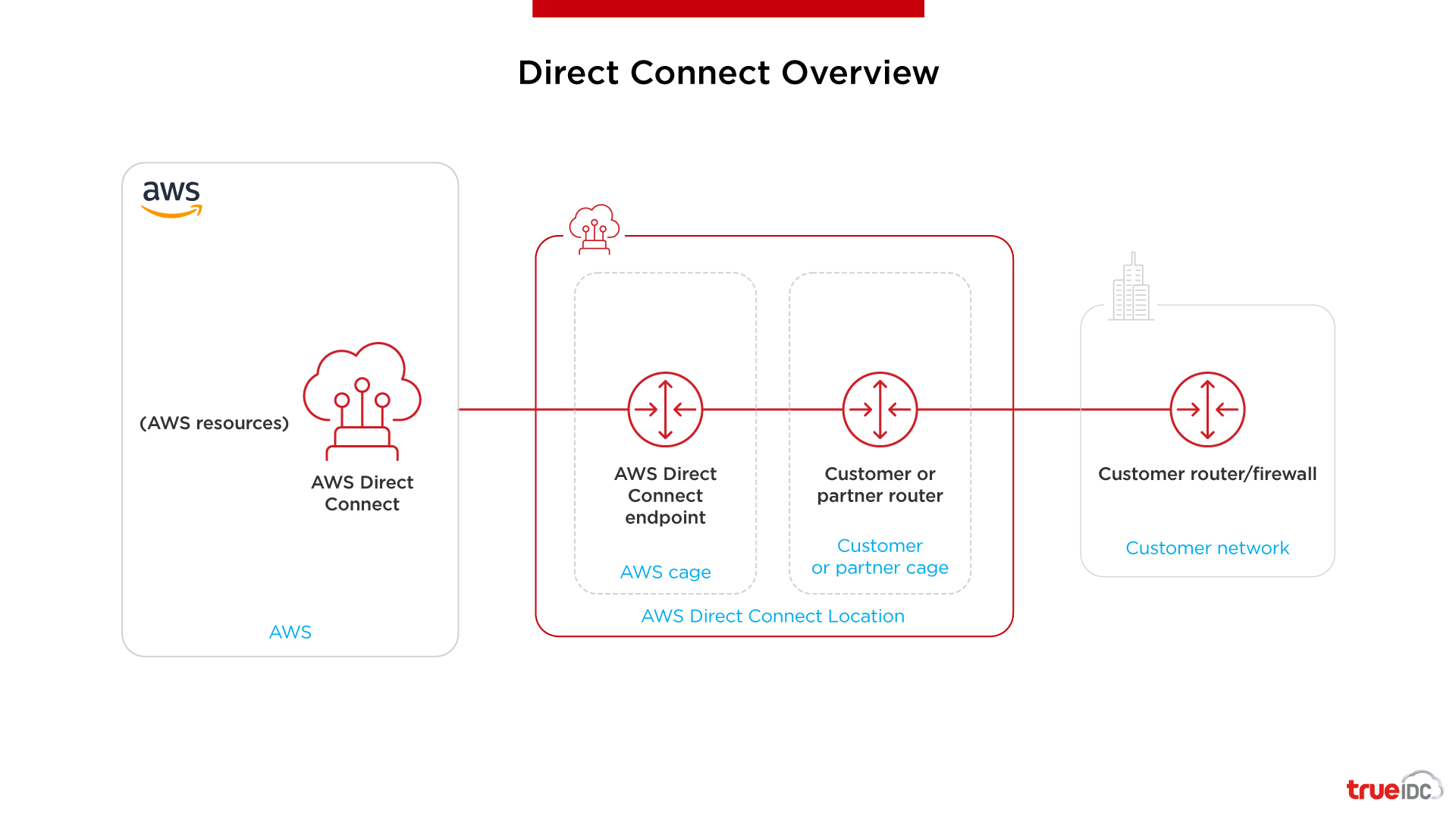 Why Choose True IDC as Your AWS Direct Connect Partner?
1. High Availability with Redundant Link Connections: As your AWS Direct Connect partner, True IDC offers redundant link connections from different locations to ensure high availability for your network connectivity. By establishing redundant connections from diverse locations, we mitigate the risk of single-point failures and enhance the resiliency of your network infrastructure. This redundancy and failover capability help ensure business continuity and minimize downtime, allowing you to confidently run mission-critical workloads and deliver seamless services to your customers.
2. Extensive Experience and Expertise: At True IDC, we possess deep knowledge and experience in networking solutions and cloud infrastructure. Our team of certified professionals is well-versed in AWS Direct Connect and AWS architecture who can provide tailored solutions that meet your specific requirements.
3. Seamless Connectivity: We understand the importance of a robust and reliable network connection to AWS services. As an AWS Direct Connect partner, we offer high-bandwidth connections that ensure low-latency and consistent performance, enabling you to maximize the benefits of AWS services without disruptions.
4. Enhanced Security: With AWS Direct Connect, your data travels over a private connection, eliminating exposure to the public internet. This enhanced security minimizes the risks associated with data breaches and ensures the confidentiality of your sensitive information.
5. Cost Optimization: By leveraging AWS Direct Connect, you can reduce your data transfer costs, particularly for large volumes of data. As your trusted partner, we can assist you in optimizing your network architecture and traffic patterns to minimize costs while maximizing performance.
6. Local Presence and Support: As a Thailand-based AWS Direct Connect partner, we understand the unique requirements and challenges faced by businesses in the region. Our local presence enables us to provide personalized support and guidance throughout the implementation and management of your AWS Direct Connect connection.
7. Scalability and Flexibility: We recognize that businesses evolve and grow over time. With AWS Direct Connect, we offer scalable solutions that can accommodate your changing needs. Whether you require additional bandwidth or need to establish connections to multiple AWS regions, we can adapt to your evolving requirements.
8. Streamlined Deployment and Management: Our team will work closely with you to ensure a smooth and hassle-free deployment of your AWS Direct Connect connection. We provide comprehensive management services, including monitoring, troubleshooting, and ongoing optimization, allowing you to focus on your core business activities.
Accelerate Your Cloud Journey with True IDC
Partnering with True IDC as your AWS Direct Connect provider empowers your organization to leverage the full potential of AWS services while enjoying enhanced security, performance, and cost savings. We are committed to delivering reliable and scalable networking solutions that accelerate your cloud journey and enable digital transformation.
Contact us today to learn more about our AWS Direct Connect services and how we can help you seamlessly connect to AWS from Thailand. Let's embark on a successful cloud journey together!