Data Center - Thailand
Alibaba Cloud Express Connect
True IDC, an official partner of Alibaba Cloud, became the first official Network Service Provider in Thailand for the Alibaba Cloud Express Connect service.
Alibaba Cloud Express Connect is a service that helps connect your on-premise data center to Alibaba Cloud's Virtual Private Cloud (VPC) securely and with high network performance. The service provides a much faster and more reliable connection with high bandwidth. This helps to reduce latency compared to using the internet and can save network system maintenance costs.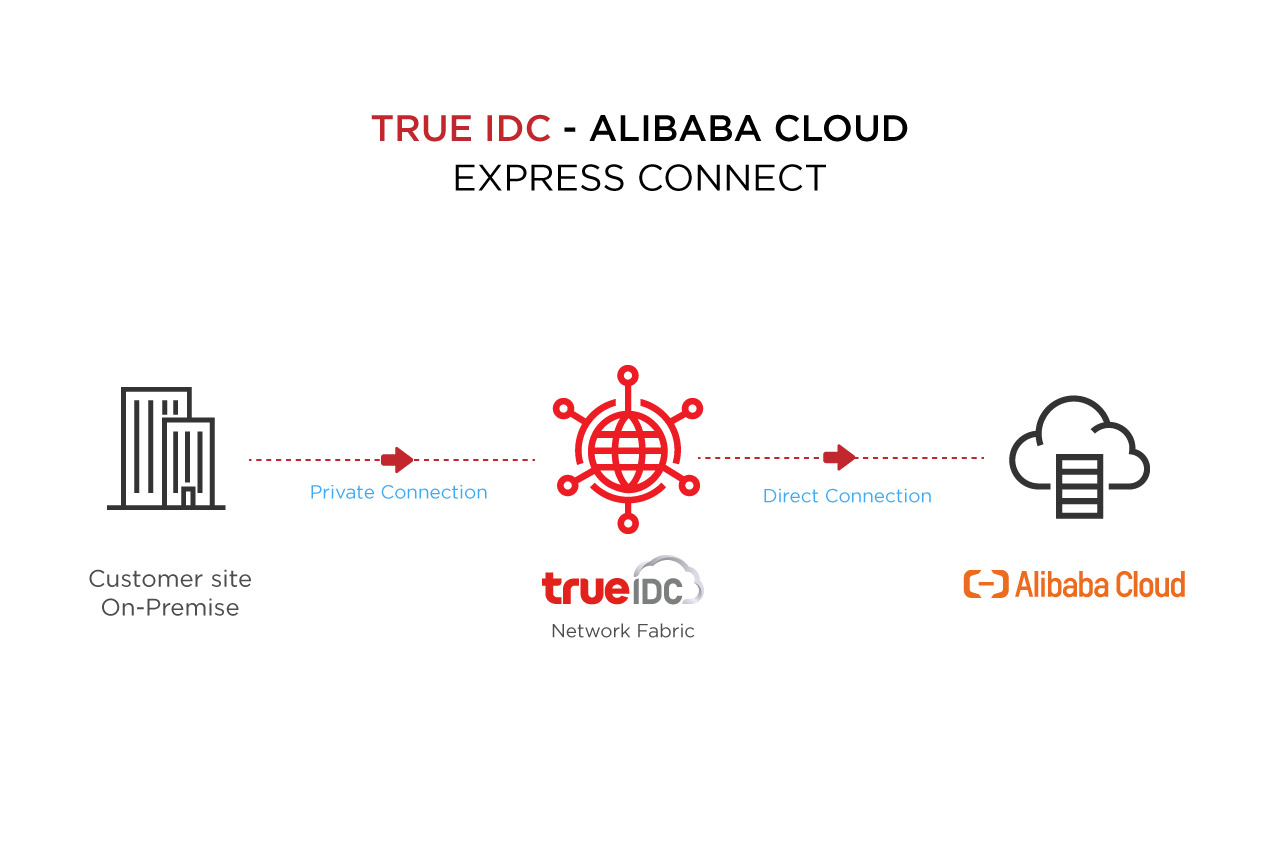 Key Highlights:
Connecting with a high-speed network through network virtualization technology developed by Alibaba Cloud, Express Connect acts as a dedicated connection service enabling communication between networks through a high-speed private network. It does not require data transmission back and forth on the internet, ensuring low latency, low packet loss, and high throughput of data transmission even when forwarding data to a distant destination.

High data security is ensured when transmitting data through the infrastructure of both Alibaba and True IDC without the need for an internet network connection which could be susceptible to data theft during transmission.
Private connectivity with support for high bandwidth of up to 10Gbps
There are various service scenarios available for use, including single-connection and two-connection setups that provide redundancy, as well as Site-to-Site VPN options.
Connections to Alibaba Cloud in various regions are enabled through the dedicated Cloud Enterprise Network (CEN) service.
Benefits:
Reduced costs of internet connection and network maintenance with direct connections to Alibaba Cloud.
Access to consultation on Hybrid Cloud and Multi-Cloud connectivity solutions with our experts to help you seamlessly and efficiently connect data centers and clouds with no boundaries.
The Regional Command Center team at True IDC is monitoring and is ready to help 24/7.