True IDC launches True IDC VMC Professional Services; adds VMware Cloud on AWS to transform the Hybrid Cloud business
14 Nov 2019 //= substr($strYear,2,2)?>
After True IDC joined hands with VMware to launch the first VMware Cloud on AWS in Thailand at the VMware Thailand Cloud Expo 2019, True IDC, the leading independent Data Center and Cloud System service provide in Thailand has announced a value-added service, True IDC VMC Professional Services which offers VMware Cloud on AWS to support Thai companies in moving towards using Hybrid Cloud to reduce complexity when migrating workload onto cloud and offers Application Modernization to transform businesses into a global company.
Why VMware Cloud on AWS?
Enhancing independence and agility for the Data Center and Cloud System
VMware Cloud on AWS has helped such companies to build upon the existing VMware system in terms of knowledge, usage, and related software licenses on to the public cloud of AWS easily. This helps to expand the Data Center's capabilities or utilizes infrastructure that can adjust the size of the system to meet the both temporary or long-term demands.
VMware Cloud on AWS utilizes the Software-defined Data Center (SDDC) of VMware on AWS Cloud to help companies to be able to utilize applications in the on-premise and public cloud independently. It also offers the ability to adjust the usage amount with high flexibility which also reduces the obstacle of migrating workload of applications onto cloud to enhance the capabilities of IT Infrastructure and opens new opportunities to businesses through Hybrid Cloud services.
A simple and credible Hybrid Cloud on AWS Cloud
Companies can make use of the basic tools of VMware including vSphere, vSAN, NSX and vCenter Server on AWS Cloud immediately, both provisioning, configuring storage, and setting lifecycle policies similar to how VMware is being used today. This allows companies to migrate workload between on-premise and AWS Cloud without having to change the application architecture, purchasing new hardware, or changing the way of working. VMware Cloud on AWS will prepare the infrastructure automatically and adjust the system on-premise and AWS Cloud to align. VMware Cloud on AWS makes use of AWS for Public Cloud services which is stable and secure, certified by international standards like CSA STAR, ISO 9001, ISO 27001, ISO 27017, ISO 27018 and PCI DSS. Customer service centers across the world are ready to support the expansion of Data Centers and expand the company's services into other regions. Most importantly, the VMware Cloud on AWS can also help to integrate applications of the companies with the services of AWS to modernize the applications at an economical cost and with low latency.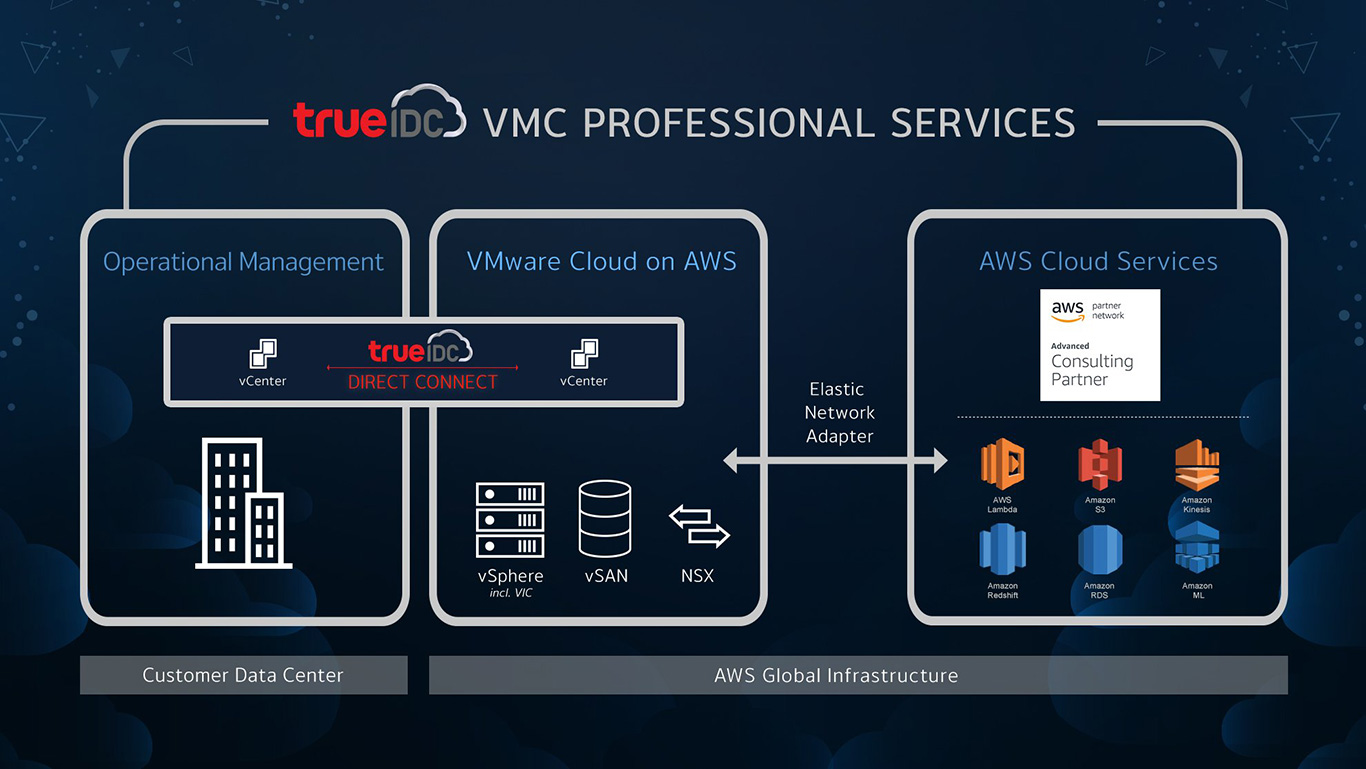 Enhancing VMware Cloud on AWS with True IDC VMC Professional Services
True IDC is the only exclusive service provider in Thailand to be appointed the Advanced Consulting Partner by Amazon Web Services with certifications for solution provider, public section partner (government and education), storage partner solutions, marketplace reseller, authorized training reseller and well-architected partner. True IDC also has a team of technical engineers certified as Solutions Architect Professionals and DevOps Engineer Professionals, ensuring their expertise to advise, design, and develop solutions on AWS to achieve the client's business goals in all industries especially for the public sector and education institutions. Our team was also appointed as the VMware Cloud Platform Partner (VCPP) prepared to offer VMware solutions services both on-premise and on cloud.
With the certifications that True IDC has received, True IDC VMC Professional Services has a team of experts who can consult on design and installations of systems correctly, appropriately, securely, and in line with the systems of both VMware and AWS. We also offer Cloud Managed Service to maintain our clients' systems to be ready for use, reducing burden and complexity, and supports business expansion that is quick, agile, and effective to keep our clients ahead of their competitors.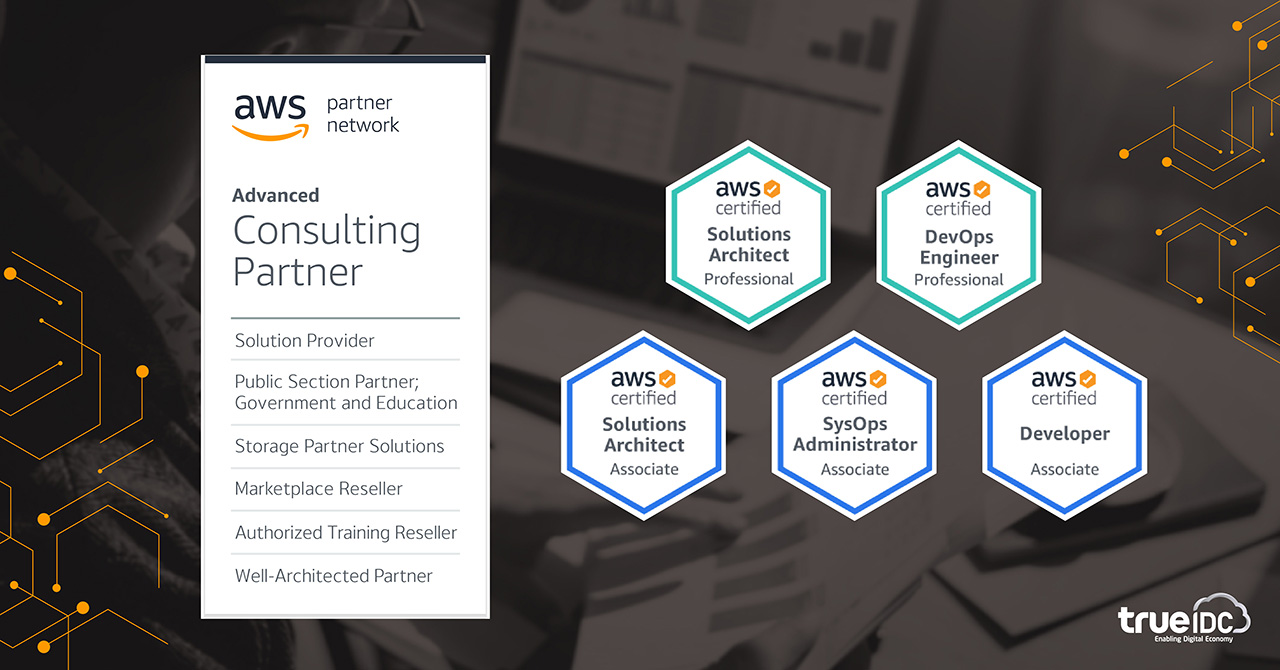 In addition, True IDC also offers True IDC Direct Connect to reduce latency by connecting Data Centers of our clients with VMware Cloud services on AWS directly. This helps our clients to access applications and services on the VMware Cloud on AWS quickly. Moreover, True IDC Billing Platform is a Single Billing Platform for clients to manage expenses of both VMware Cloud and AWS independently on one single platform and to generate bills of all expenses by True IDC, making it convenient for corporate clients to make payments for cloud services with proper taxation according to the law.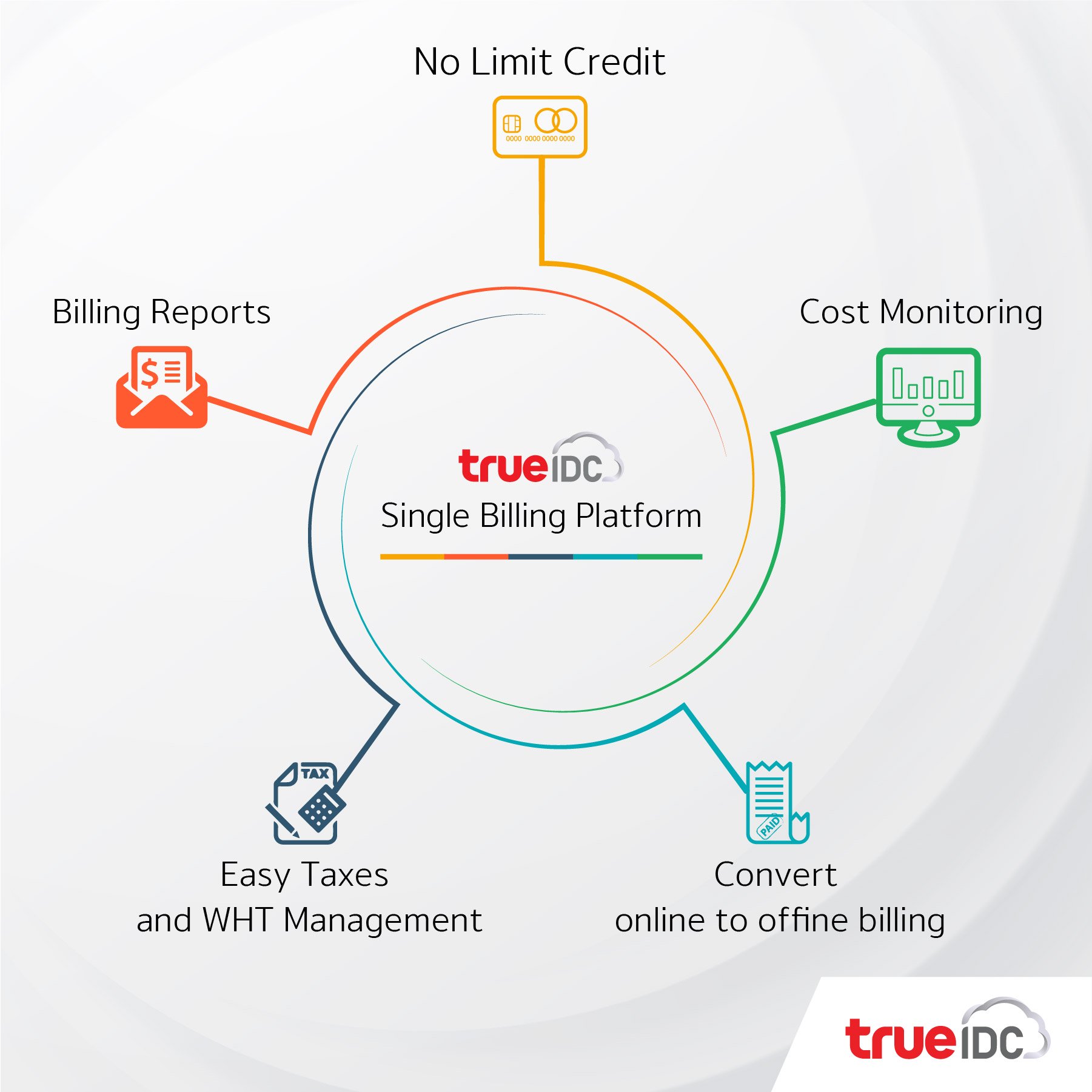 Expand the Data Center and migrate applications to further modernize applications
By designing VMware and AWS together, applications installed in such environments will fully benefit from both VMware and AWS including usage that is aligned between the Data Center and cloud systems, migrating applications onto cloud quickly and economically, and accessing a variety of AWS services effectively.
Interesting applications include:
1. Data Center expansion
VMware Cloud on AWS helps companies to expand the Data Center from on-premise to AWS Cloud and distributes to various regions globally easily via tools and management all under VMware. This reduces complexity, risks, and cost, helping to reduce the time it takes to configure SSDC-based Clusters to a matter of hours instead of days or weeks.
2. Migrating applications onto cloud
Using the basic technology of VMware helps companies to migrate workload of applications between on-premise and AWS cloud independently and securely without having to change or create a new architecture. Most importantly, companies can maintain the same policies to align between the two systems which not only reduces risks of migrating applications to a hybrid cloud, but also reduces cost.
3. Develop and test applications to modernize applications
VMware Cloud on AWS provide aligned environments for the development of new applications with development tools of VMware and integrating RESTful API of vSphere with the variety of AWS services including Lambda, Amazon SQS, Amazon S3, Elastic Load Balancing, Amazon RDS, Amazon DynamoDB, Amazon Kinesis and Amazon Redshift to support application modernization.
4. Highly effective Disaster Recovery as a Service
Disaster Recovery as a Service is enhanced by the proper protection for large workloads which requires a large amount of storage space, together with reduce cost and complexity, supporting continuous functions of applications critical to business operations, ensuring that services are functional even during disasters.
If you are interested in VMware Cloud on AWS of True IDC, please contact for more details or to visit us at [email protected] or call 02-980-6611.