The Latest Data Center Trends and Hybrid Multi-Cloud Strategy in Thailand
25 Oct 2022 //= substr($strYear,2,2)?>
As we head towards the digital age, our needs for data centers and cloud technologies increased. At TTT 2022 Reinforce: Enterprise IT Infrastructure Day, True IDC delved into the future data center and cloud technology trends, predicting that more organizations will embrace the hybrid multi-cloud strategy.
Data Center Trends in Thailand
In terms of size, the biggest data center market in Southeast Asia lies in Singapore, followed by Malaysia, Indonesia, and Thailand. However, if we take the amount of data center investment into account, Singapore won't be on top of the list. This is due to the Singaporean government's restrictive energy regulations enforced on the data center service providers. As such, Malaysia moved up to first place. On the other hand, data centers in Thailand gain significant attention from foreign investors, proven by the investment growth rate of 23.5% per year. Most of the investments in these countries come from the world's leading cloud service providers.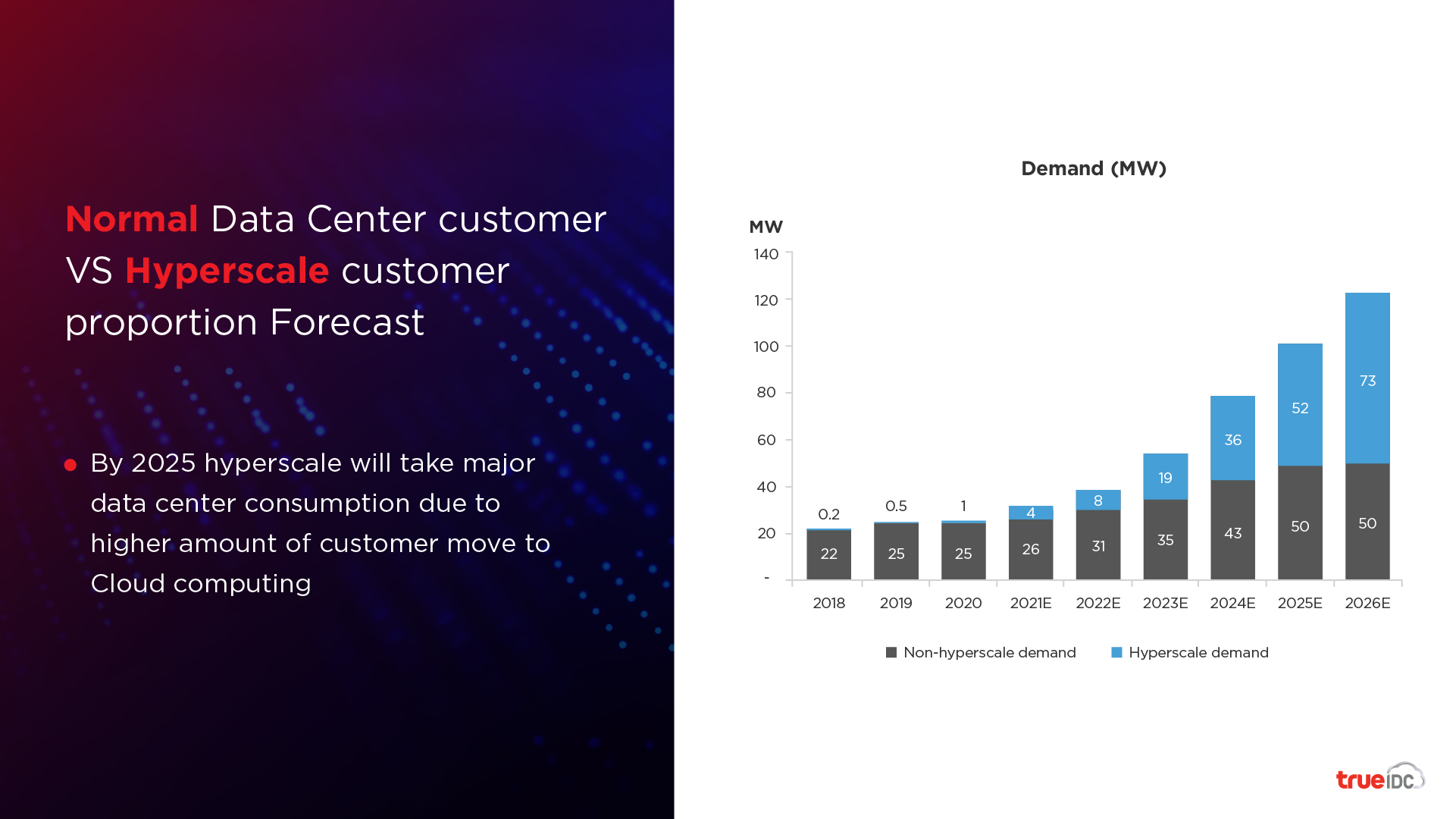 Data Center Growth Direction
1. Data Center Automation: Data centers that bring Robotic Process Automation and AI into the data center management practice.
2. Data centers with Edge Computing: When more organizations develop smart solutions, the data centers would expand their edge computing to be closed to the data sources.
3. Sustainable data centers: Reports find that data centers are still using very minimal energy of only 1% despite the increasing workload year on year. Credits go to data center service providers who continue to adopt more eco-friendly technologies.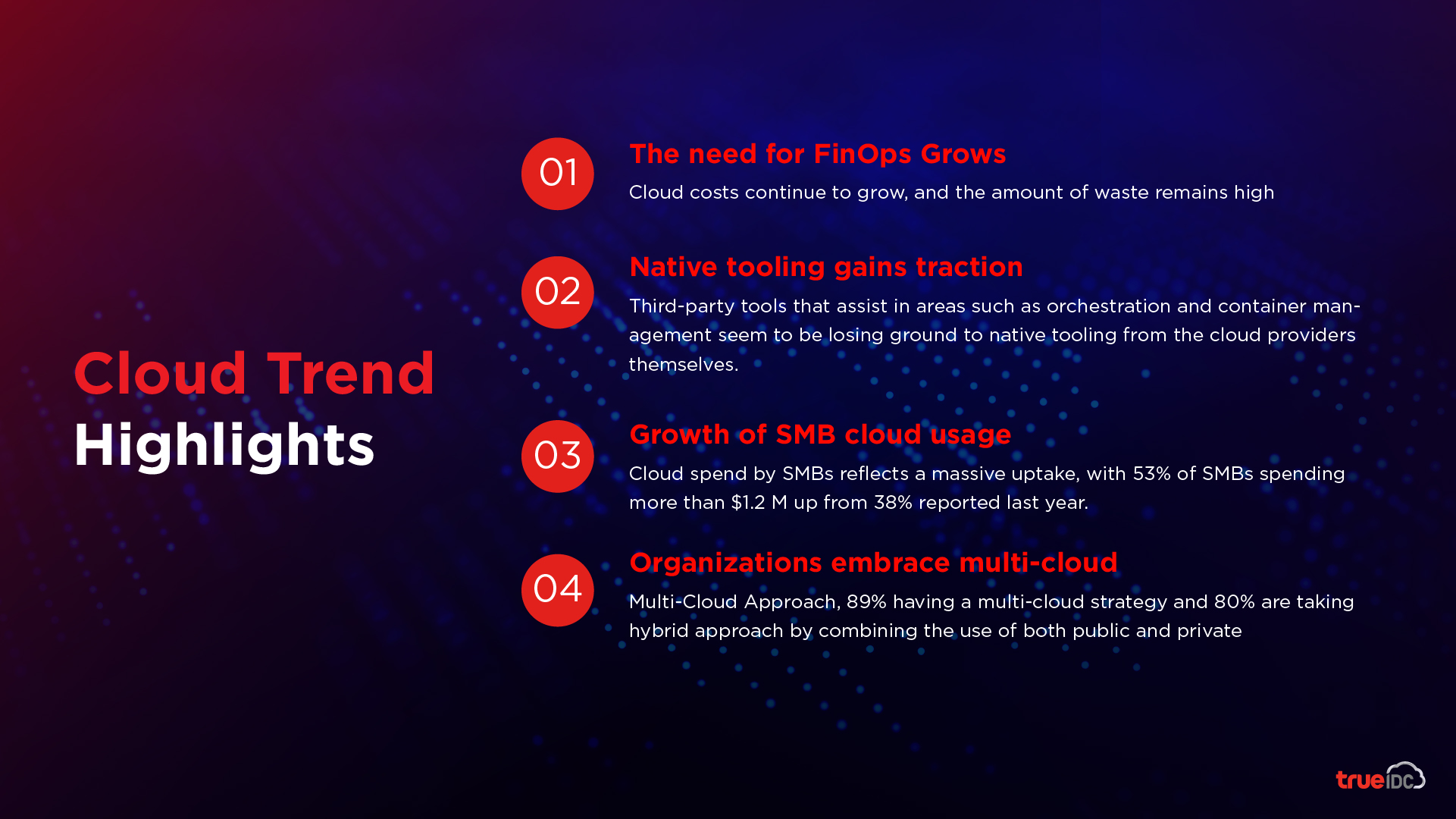 Cloud Technology Trends in Thailand
1. Adoption of FinOps strategy to manage cloud costs: This strategy is highly valued by many at the moment as it provides organizations with in-depth information. This technology enables them to track monthly usage or the usage by each business unit, helping them assess and optimize their cloud use.
2. Expanded adoption of cloud native services from cloud providers.
3. Wide adoption of cloud services among the SMEs: It helps save costs by letting them pay for the actual use, without having to spend on the whole infrastructure.
4. More organizations moving towards multi-cloud.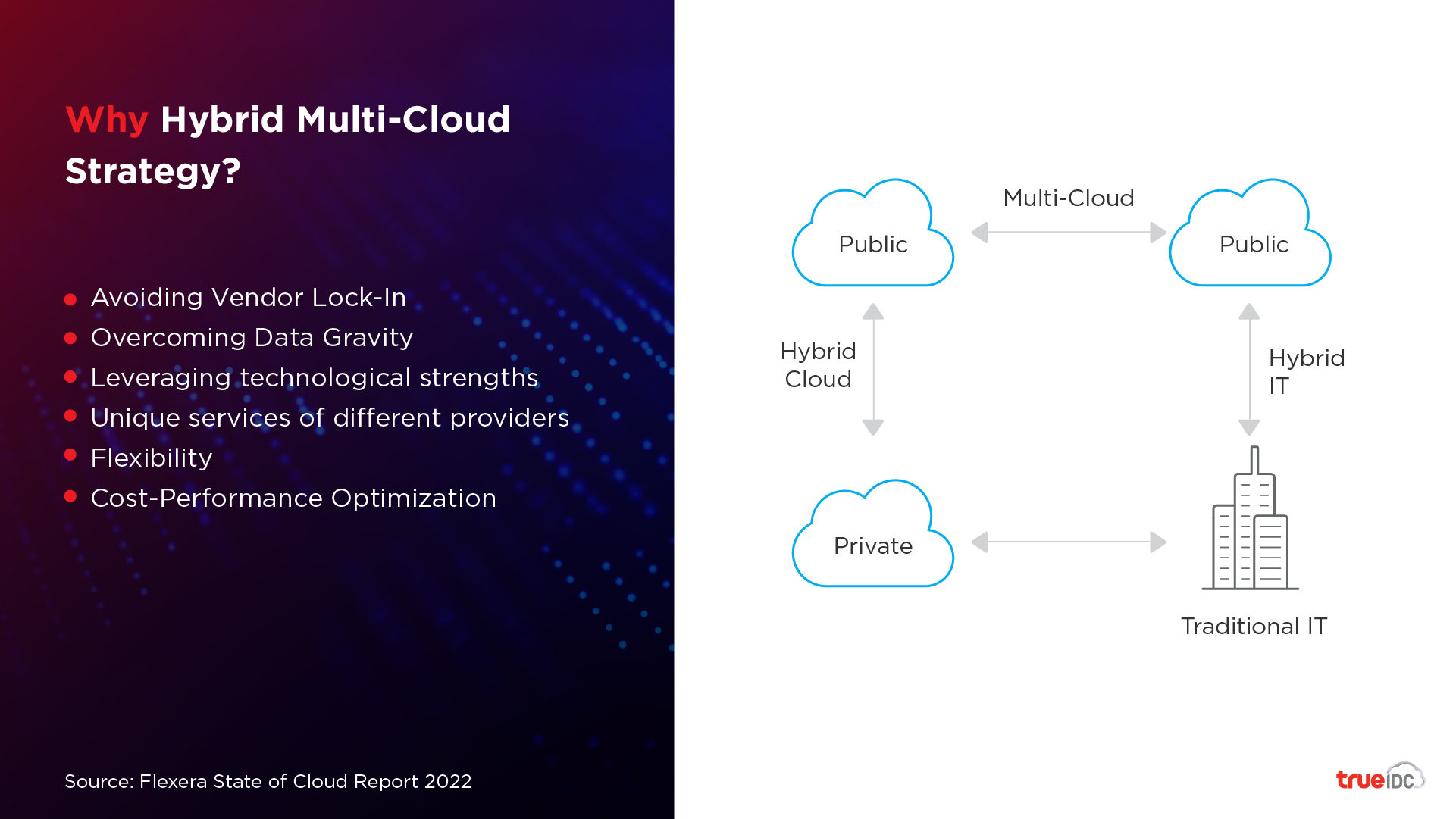 What is the Hybrid Multi-Cloud Strategy?
At times, an organization's private cloud might not effectively respond to its needs. It will thus be required to expand and increase the workload by connecting to the public cloud. This practice called hybrid cloud allows the organizations access to their desired functions.
By doing so, some organizations might find that they need to connect to more than one public cloud to fully cover every need. This multi-cloud strategy lets users enjoy the different advantages of various cloud providers.
Together, the strategies explained above are hybrid multi-cloud, which is an effective strategy that many organizations have adopted. This strategy has its edge as it allows the users to connect to different cloud service providers all at once and not exclusively tied to one provider. In this way, organizations have control over security and access to private information in the private clouds, in line with the data security regulations, while balancing the cost-benefit.
What is Hybrid Multi-Cloud Strategy Used for?
1. To deploy applications with different functions on cloud platforms from different providers.
2. Disaster recovery between cloud platforms from different providers.
3. Data integration between cloud platforms from different providers.
Watch the re-run
For more information on the colocation technology, True IDC Cloud Services, or consultation with professionals at True IDC, please contact us at https://www.trueidc.com/en/contact