Sign Up Now and Use Our Cloud for Free! The Deal Startups, SMEs and SMBs Can't Miss
12 Oct 2022 //= substr($strYear,2,2)?>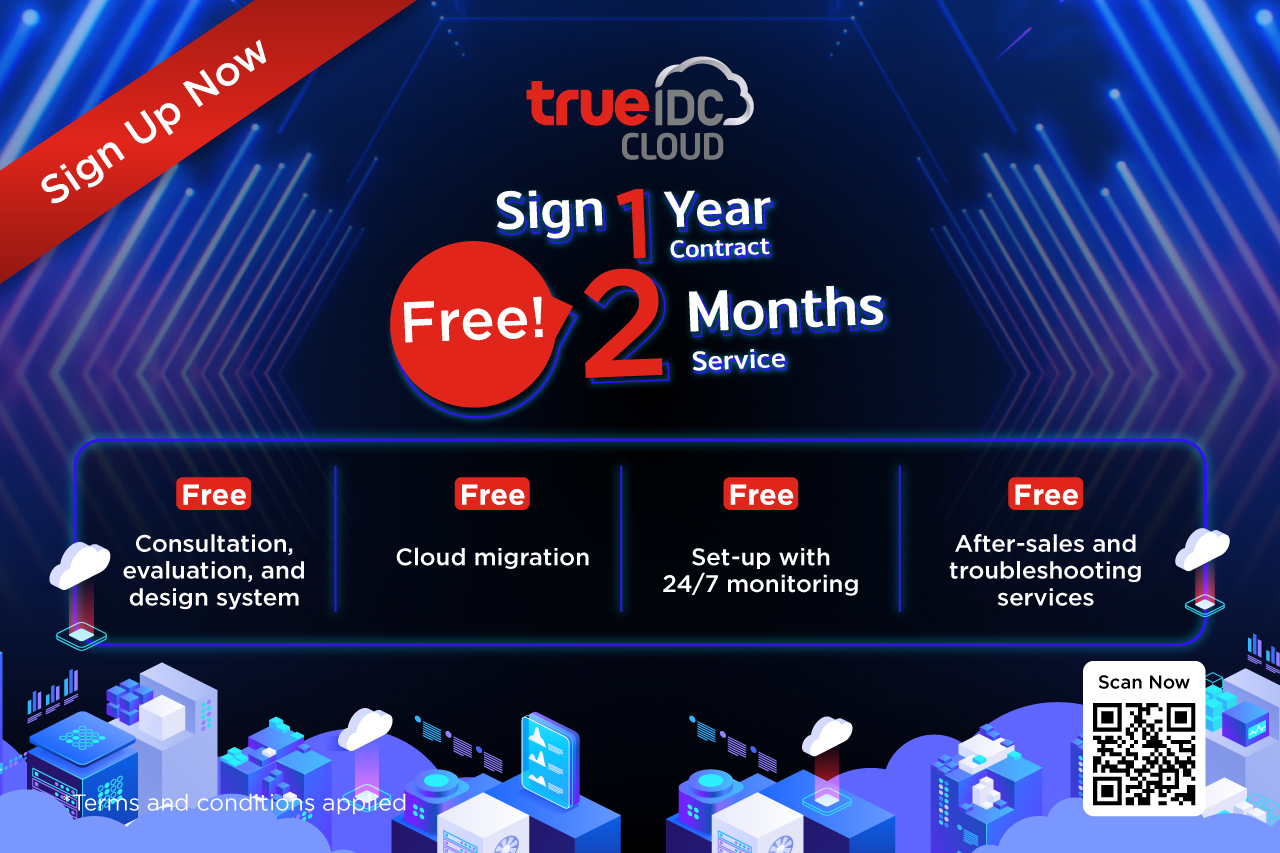 An end-of-year offer from True IDC: sign up now and use True IDC Cloud for free! No worries about data migration, True IDC professionals are here to support you through the entire process.
Details:
Free two months of use when you sign up for True IDC Cloud (minimum 1-year contract).
Free consultation on system evaluation and design by our experienced Cloud Hero team.
Free data transfer service with a tailored set-up that guarantees your seamless and secure cloud use.
Free monitoring tool installation with 24/7 monitoring service.
Free after-sales and troubleshooting services during your True IDC Cloud use.
Sign up here: https://bit.ly/3WDWj4v
Why True IDC Cloud?
• Pay-as-you-go. No worries about the fluctuating costs due to exchange rates. No fee for data transfer.  
• In-country data storage and the processing are in line with the PDPA law.
• Speed up your application development and release them faster.
• No fear of system failure. Guaranteed uninterrupted working with SLA 99.95%.
• Supported by a team of Thai system designers and experts with 24/7 monitoring.
• Low latency connection.
• Increased data sharing speed.
• Highly secured cloud system in our internationally certified data centers.
• Automatic smart usage optimization based on your needs.
• Multi-site network fabric connecting all cloud systems in True IDC data centers, making the modification of network configurations fast and simple.
*Terms and Conditions:
1. The offer is valid until 31 December 2022. Select your own activation date.
2. The company reserves the right to limit free system migration and installation to 15 VMs.
3. Specific terms and conditions shall be determined by the company.
4. The company reserves the right to change the promotional terms without prior notice.
For more information on True IDC Cloud service, please contact us at https://www.trueidc.com/en/contact