True IDC Enters Value-added Services Market on Data Center and Cloud
15 Jan 2018 //= substr($strYear,2,2)?>
True IDC, the leading service provider of data center and cloud computing in Thailand, launches Value-Added Services, a series IT solution in the form of as-a-Service to eliminate hardware procurement and maintenance issues, reducing CapEx and tightening up the go-to-market timeline.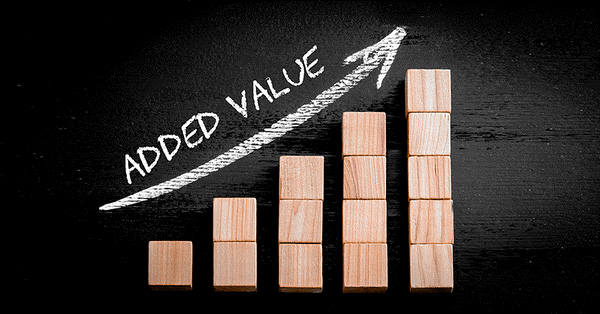 Value-Added Services – The New Dimension of IT Systems in the Age of Thailand 4.0
Thailand 4.0 is the age in which companies will utilize more technology and innovations to support their business and value-added services. Each company will compete to offer new solutions or services that meet the digital lifestyle of the market while also reducing cost. As such, Cloud Managed Service has become an attractive option for startups, SMEs, and enterprises because it is ready to use and eliminates the problem of hardware investments and hardware maintenance.
The Value-Added Services that True IDC offers include:
1.Backup-as-a-Service
Server backup and recovery can backup data on both physical and virtual servers, whether VMware or Hyper-V, without having to set-up an Agent on the server. The user can manage and assess the work on the Web Portal on their own real-time. Most importantly, data backup will be password protected to enhance security. For more details, click.
2. Disaster Recovery-as-a-Service
The Disaster Recovery-as-a-Service is another alternative to prepare for disasters. Users do not have invest or maintain a location, hardware, and other equipment. This service was designed to fulfil a variety of needs as follows:
DR-as-a-Service Between Site: Backup data between the Data Center of True IDC that allows users to choose to backup data to a destination data center as desired.
DR-as-a-Service on Enterprise Cloud: Data backup service from the Data Center of True IDC to the Enterprise Cloud with a Private Link that can Replicate Data at a high speed.
DR-as-a-Service on AWS Cloud: Data backup service from the Data Center of True IDC to the AWS Cloud with high flexibility that can support hours of usage, which reduces expenses very effectively.
3. Security-as-a-Service
Next-Generation Firewall service to filter out threats and undesired traffic from normal traffic prior to entering the network of users as well as control access to user applications according to the company's security policies. In addition, True IDC has a team of engineers who are security experts who will monitor for irregularities and provide 24/7 support to ensure that the network of the user is safe and free of threats.
4. Load Balance-as-a-Service
The Load Balance-as-a-Service helps to manage and balance workload of application access by selecting the best connectivity route and controlling bandwidth of each channel appropriately, which helps to promote continuity in providing services for critical applications and reduces the Single Point of Failure issue. Apart from that, other features are also available including RAM Cache, Compression, and TCP Optimization to speed up application access to maximum capacity. For more details click.
5. Storage-as-a-Service
Storage-as-a-Service is the service that helps to store documents and share data on cloud for large companies, similar to Dropbox and SharePoint. The main feature is its high speed of access and document upload because the Data Center is in Thailand. This is suitable for companies that require agility of storage and accessibility at both the headquarters and branch offices. It is also suitable for staff working off-site. Most importantly, data of such companies remain in Thailand which reduces the risk of leaking outside of the country.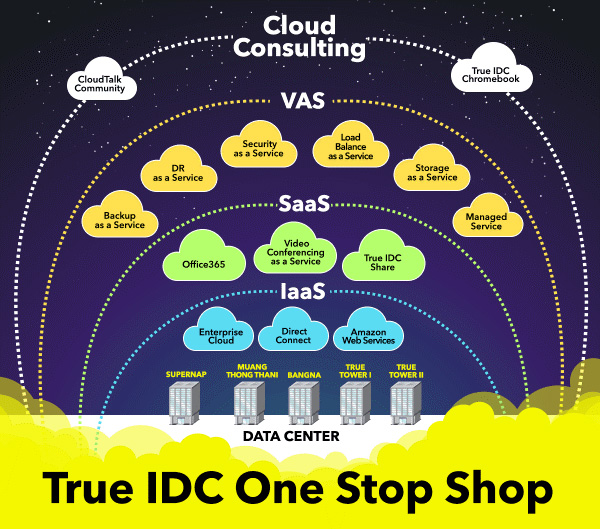 One Stop Shop: Comprehensive Data Center and Cloud System Service
True IDC is an expert that has served as a Data Center for more than 13 years. It also has cloud services and value-added services to offer a comprehensive One Stop Shop to meet client needs.
Frost & Sullivan's "Data Center Service Provider of the Year Award" Guarantees Service Quality
Frost & Sullivan announced that True IDC was the "Thailand Data Center Service Provider of the Year" in 2017 because of its excellent growth throughout the year. It stands out as an excellent Data Center equipped with technology and innovation, customer service, and solutions development that meet all client needs in the Digital Age. For more details, click.
Furthermore, the services of True IDC, from Data Center to Close System services, has received up to 5 international quality assurance certifications.