True IDC Launches New Cloud Consulting Services to Offer Comprehensive Consultations and Cost Planning
15 Jan 2018 //= substr($strYear,2,2)?>
True IDC, a leading Data Center and Cloud Computing business in Thailand, launches Cloud Consulting Services to offer comprehensive consultations and cost planning. The company has expertise in crafting solutions to meet all customer needs in setting up strategies, designing, installing, and maintaining services 24 hours a day to support companies in using cloud technology effectively at an economical cost, especially Amazon Web Services (AWS) with partnership certifications by AWS as the Authorized Commercial Reseller, Consulting Partner and Advanced Technology Partner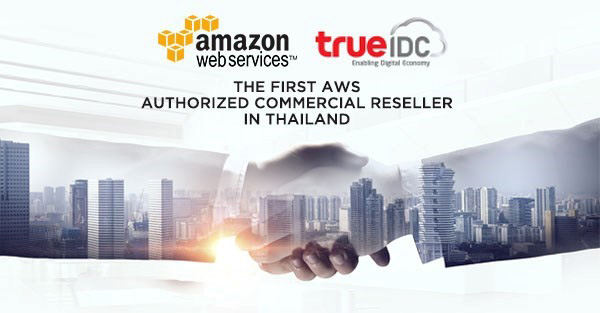 Comprehensive consulting, design, install, and support services
True IDC is ready to provide comprehensive AWS services via 4 service domains including:
Strategy – offer consulting on strategy to use AWS services from cost-effectiveness analysis of solutions to strategy on migration to cloud.
Plan – design solutions according to client needs and propose best practices and assistance in planning the change to use cloud services while minimizing business impact.
Build – develop and install solutions on AWS cloud according to the plan
Run – maintenance and support services for AWS cloud systems and assistance to modify configurations to enhance the system's effectiveness and to minimize cost of services.
In addition, True IDC also offers Cloud Competency Development Program, and Cloud CoE (Central of Excellence) Development to develop the company's personnel from IT and procurement to related management departments, to ensure that company staff are capable of managing AWS cloud systems and expansion or creating new innovations independently.
"True IDC is ready to offer comprehensive consulting services to AWS users at all levels, from small businesses to large enterprises, to ensure our clients that they can choose cloud system services that suit their business needs." – Mr. Tanat Sangkasem, Cloud Business Unit Head of True IDC said.

Expand Data Center to Cloud seamlessly
An important feature of True IDC is that it offers a One Stop Shop for solutions. Clients can choose from Data Center services to Private Cloud and Public Cloud services which offers Direct Connect and Link Internet for clients to choose for their specific needs. This allows clients to expand all services to AWS Public Cloud to support their work and services for the future seamlessly. In addition, Cloud Managed Service is also available along with many other services including Backup-as-a-Service, Disaster Recovery-as-a-Service, Load Balance-as-a-Service, etc. All services are combined in an ecosystem of the large Enterprise Hybrid Cloud system that customers can manage completely independently according to their true needs.
The advantages of using AWS' Public Cloud is:
Reduce CapEx on hardware investments 
Adjustable functionality according to needs and billing on actual usage
Quick installation and ability to create a Cloud Server with more than 1,000 VMs to be ready for use within minutes
Availability of various platforms and programming languages to develop applications to choose from
Easy expansion into other regions globally, helping to accelerate business expansion into new markets
International security standards with certifications by leading institutions • High continuity with ability to prepare backups easily in case of disasters
Expertise with AWS certifications in 3 areas
True IDC is the only service provider in Thailand to have received 3 AWS certifications including:
1. Authorized Commercial Reseller
Official Authorized Commercial Reseller of AWS in Thailand which helps to plan billing cycles and to search for suitable packages to help clients maximize resources. Most importantly tax invoices are issued in Thailand which helps to eliminate tax issues in the future.
2. Consulting Partner
Certified on consulting with a team of engineers who have the expertise and experience in designing cloud systems using AWS services such as IaaS, PaaS, and SaaS.
3. Advanced Technology Partner
True IDC is prepared to provide AWS cloud system services via Direct Connect, which is a special link to connect with AWS directly, which help clients to access cloud services with more speed, stability, and security than connecting via the internet.

In addition, True IDC is also prepared to offer consulting on design and integration of AWS services to formulate solutions that meet the business needs of our clients such as Web Applications, Enterprise Applications, Disaster Recovery, etc.
Certified quality of services and security with ISO and CSA STAR
True IDC's services, whether Data Center or Cloud systems, have 5 quality and security international certifications including:
ISO/IEC 20000-1:2011: IT Service Management System
ISO/IEC 27001:2013: Information Security Management System
ISO 22301:2012: Business Continuity Management System
ISO 50001: Energy Management System
CSA STAR: Cloud Service Provider Security
These certifications can help clients rest assured that the information technology systems and data of True IDC's users are controlled and safely managed to be ready for use, reducing risks and impact of apply technology to our businesses.

Furthering solutions towards becoming the #1 partner of AWS
True IDC is ready to provide consulting and recommendations on best practices based on ample experience with working with many types of clients, which helps clients to start using AWS cloud systems quickly, cost-effectively, and at a low risk. In addition, True IDC also customizes solutions to meet the needs of our clients to take full advantage of AWS's technology to meet the business needs of our clients such as Big Data Analytics, serverless application development, etc.
"To date, we have more than 100 clients who are using AWS through True IDC within only 1 year, making us the largest partner of AWS in Thailand. More importantly, we aim to become the top partnering cloud consultant that our clients can trust in this region." – Mr. Tanat said.
If you are interested in True IDC's consulting services and support for using AWS, please contact [email protected] or call 02-9980-6611.