True IDC named Data Center Service Provider of the Year and Cloud Service Provider of the Year at the 2018 Thailand Excellence Awards
29 Mar 2018 //= substr($strYear,2,2)?>
BANGKOK, March 29, 2018 PRNewswire — True IDC has been honored with two awards at the annual Frost & Sullivan Thailand Excellence Awards banquet held at the Anantara Siam Bangkok Hotel in Thailand. The two awards True IDC received include the 2018 Frost & Sullivan Thailand Data Center Service Provider of the Year and Cloud Service Provider of the Year.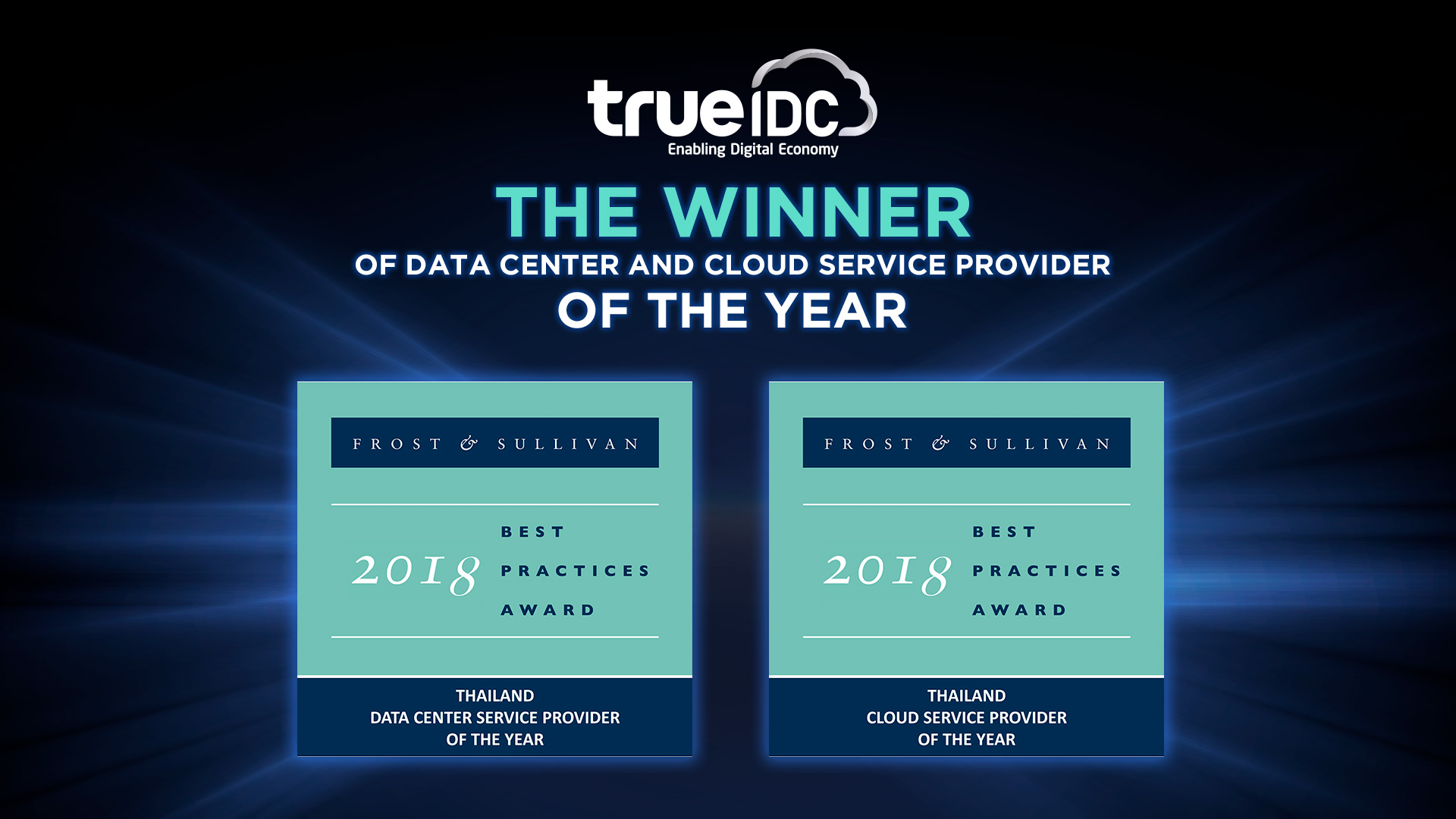 Mr. Nishchal Khorana, Director, Digital Transformation, Frost & Sullivan said that True IDC's focus on best practices through proven certifications and process standardizations, coupled with a robust growth strategy, is gaining it a strategic advantage in the region.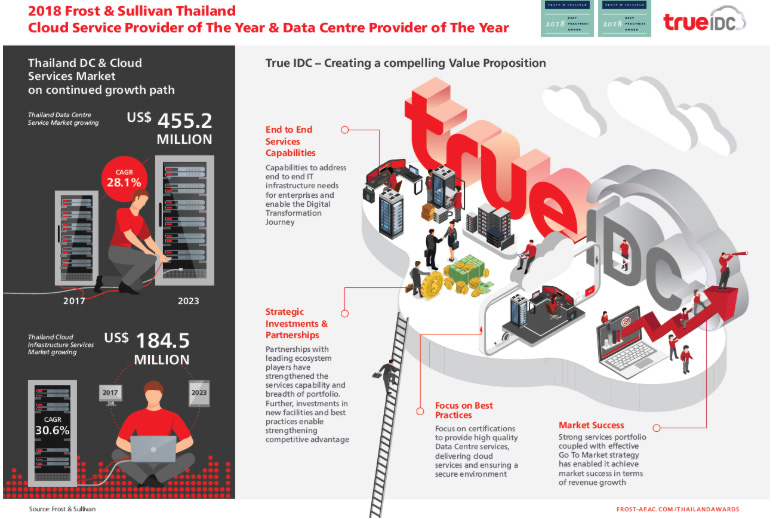 "The data center services market in Thailand is witnessing heightened competition as service providers continue to expand capacity and form strategic partnerships for growth. Despite this environment, True IDC has attained significant revenue growth due to multiple factors, including its ability to offer end-to-end services and its value proposition of being a carrier-neutral provider," he added.
In the area of cloud services, the company was also recognized as the company continues to revolutionize businesses through its solutions. In addition, True IDC has also focused on differentiating itself by aligning to the needs of hybrid IT environments and driving investments toward achieving best practices for addressing security concerns in cloud implementation.
"Among service providers rapidly developing offerings to meet Thai enterprises' growing adoption of cloud services, True IDC has gained a strategic advantage in the segment leading to its market success. True IDC's partnerships with leading hyper-scale cloud vendors and its initiatives in developing a talent pool with cloud-related skill sets have helped it build an effective ecosystem for providing cloud services," noted Mr. Nishchal Khorana.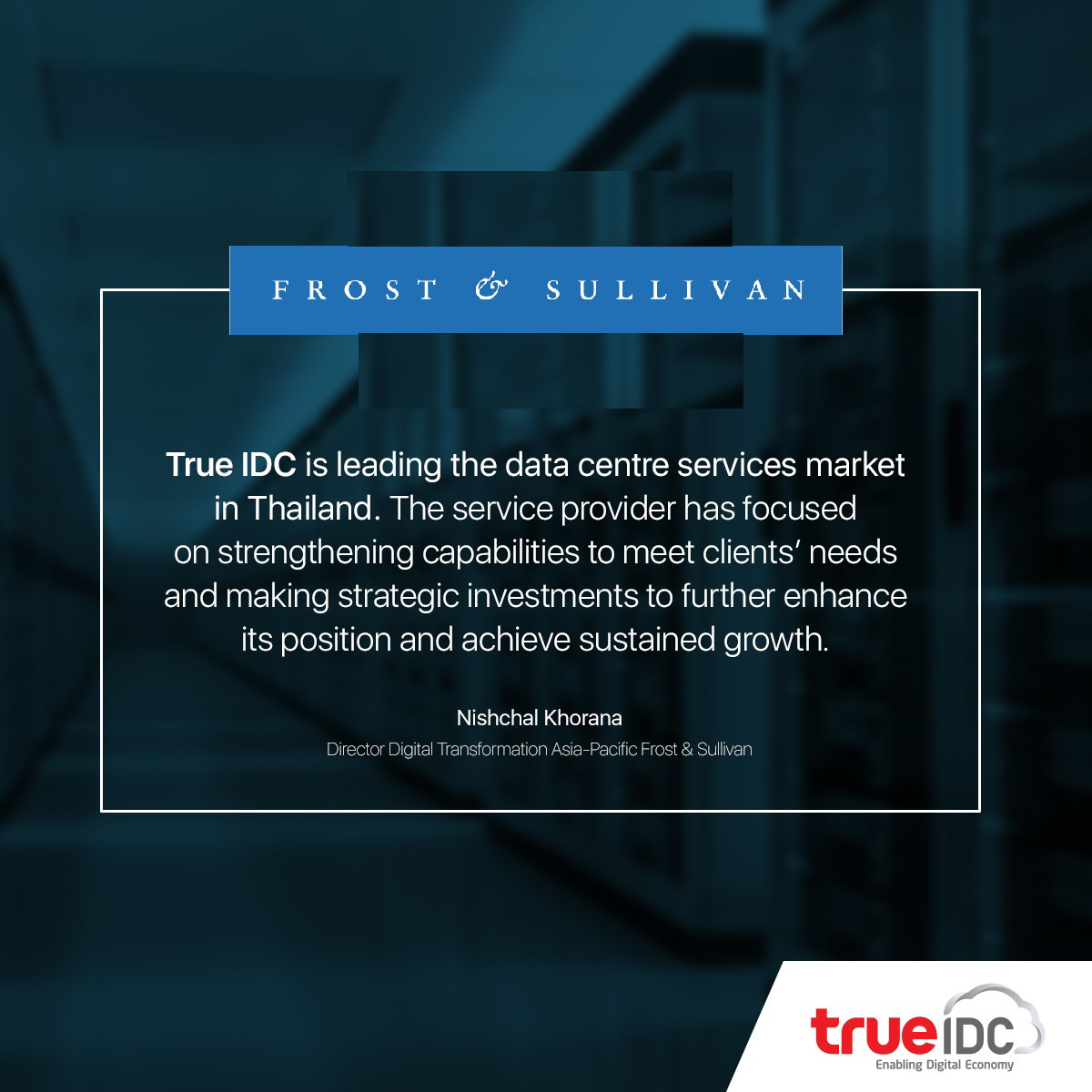 The recipients of the annual Frost & Sullivan Thailand Excellence Awards were identified based on in-depth research conducted by Frost & Sullivan's analysts. The award categories offered each year are carefully reviewed and evaluated to reflect the current market landscape and include new emerging trends. The short-listed companies were evaluated on a variety of actual market performance indicators which include revenue growth; market share and growth in market share; leadership in product innovation; marketing strategy and business development strategy.
About Frost & Sullivan
Frost & Sullivan, the Growth Partnership Company, works in collaboration with clients to leverage visionary innovation that addresses the global challenges and related growth opportunities that will make or break today's market participants.
For more than 50 years, we have been developing growth strategies for the global 1000, emerging businesses, the public sector and the investment community. Is your organization prepared for the next profound wave of industry convergence, disruptive technologies, increasing competitive intensity, Mega Trends, breakthrough best practices, changing customer dynamics and emerging economies? www.frost.com