True IDC Launches Multi-site Network Fabric to Transform Data Center and Cloud Connectivity
28 Jan 2021 //= substr($strYear,2,2)?>
True IDC, the leading data center and cloud service provider in Thailand, has transformed the connectivity of its data centers into a 'Multi-site Network Fabric' with Software Defined Network (SDN) and Virtual Extensible LAN (VXLAN) technology.  This helps raise the standard of connectivity between data centers with enhanced speed and flexibility. The customers are able to relocate to any data center of their choice, while still being able to use any type of connectivity; Direct Connect or Internet Exchange.
Transform Data Center Networks with VxLAN
Generally, connectivity between bare metal servers and virtual machines in data centers are both Layer 2 and Layer 3. VLAN technology is normally used in Layer 2, which supports up to 4,094 VLANS. However, with the increasing number of cloud consumption nowadays, the number of VLANs may not be able to keep up with such usage, especially for data centers that have many users under service.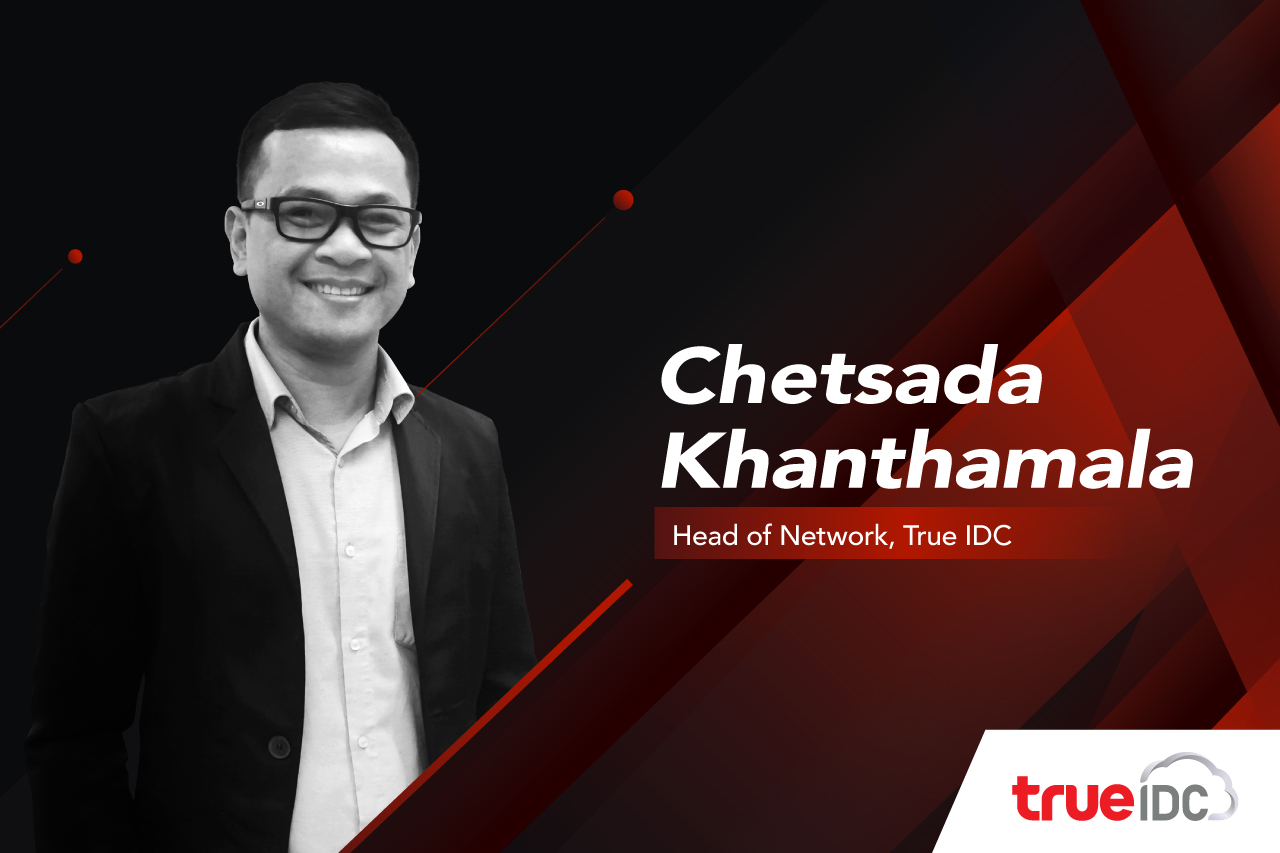 Mr. Chetsada Khanthamala, Head of Network of True IDC, shared that, "As a leading data center service provider in Thailand, we are committed to breaking the barriers by implementing SDN and VXLAN for network systems of our data centers to expand our connectivity in Layer 2 both within and between data centers up to 16 million VXLAN. As a result of this, True IDC is able to provide "multi-site network fabric" service (one network fabric) which covers our 3 data centers (in the first phase), including Midtown Ratchada, North Muangthong, and East Bangna."
With multi-site network fabric service, our data center customers from various industries can extend or relocate their connectivity to True IDC data centers freely without having to modify network system configurations. Most importantly, the latency of connectivity between Data Centers is reduced down to only 1-2 milliseconds. It also raises the level of data center service and disaster recovery service. 
Mr. Chetsada added that, "Even though the 3 data centers are on a network fabric, the SDN management can still work independently, comprising the 3 controllers per 1 center to maximize availability.  In the event that the network system of one data center malfunctions, the remaining data center network can still function normally.  This is achieved via our data center architecture design which allows our data centers to have an SLA of 99.982% (or equivalent to Tier III)"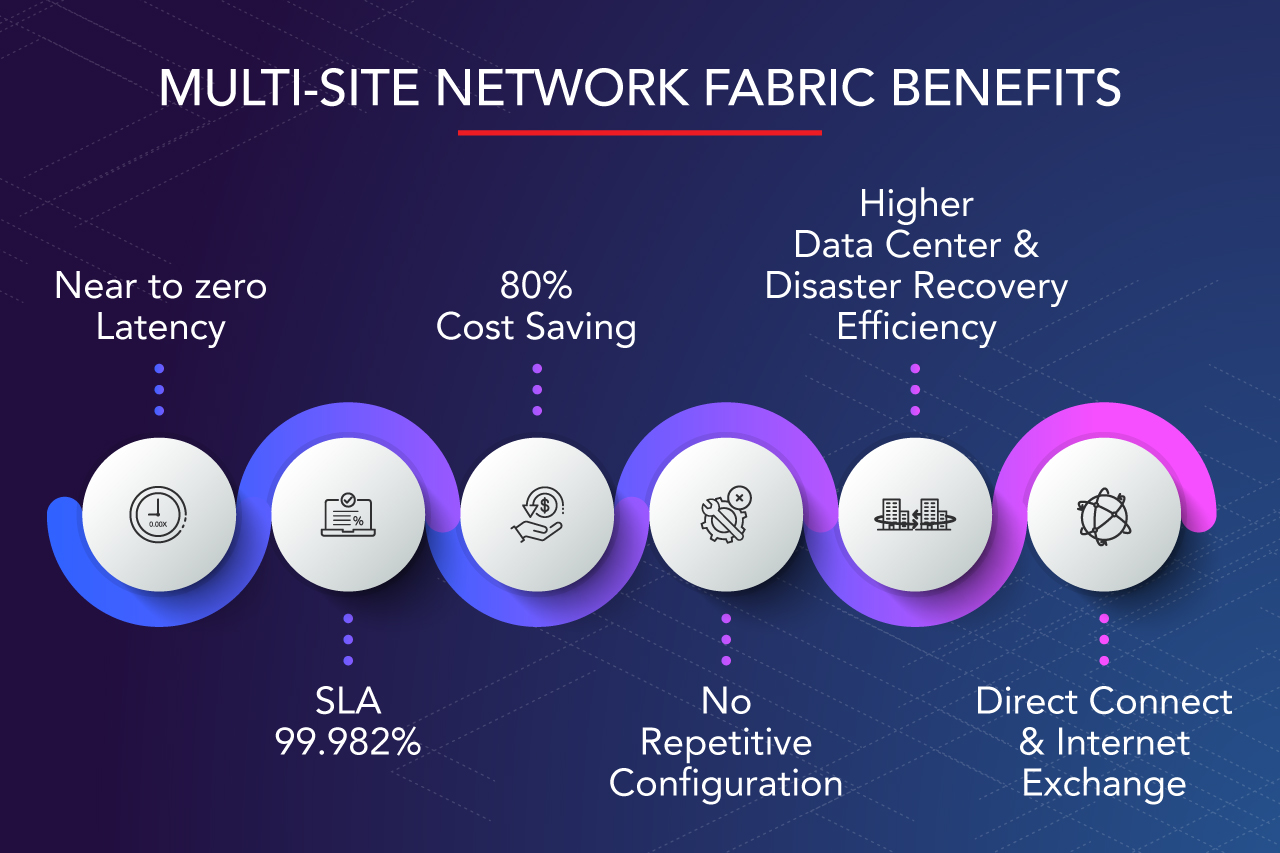 Eliminate the High-Cost Leased Line Connection
The networks between Data Centers are typically connected via Leased Lines like MPLS which are costly and require 30-45 days of configuration and preparation time. However, the True IDC Multi-site Network Fabric technology allows clients to connect between True IDC data centers within 3 days and save costs up to 80%.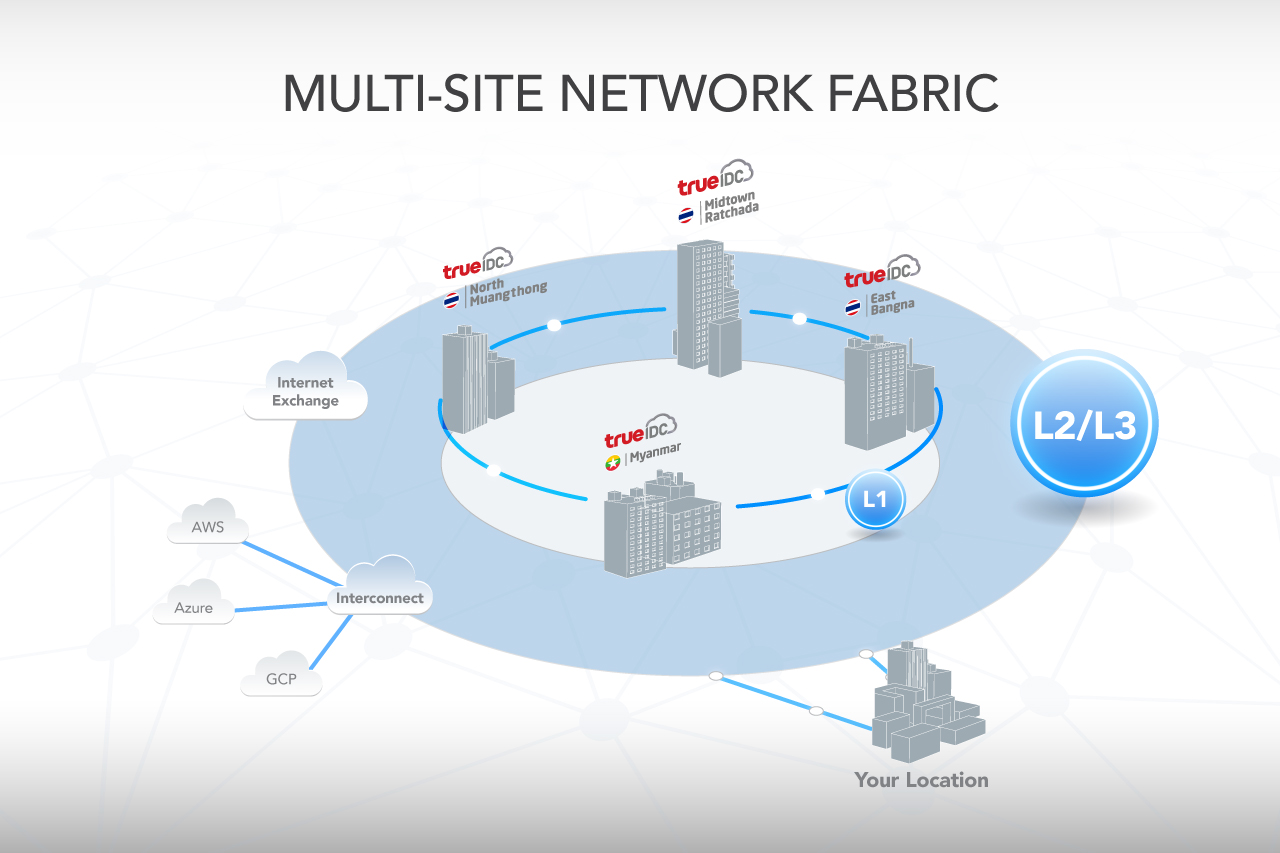 Enable Direct Connect and Internet Exchange Services Immediately
True IDC customers can start using VXLAN services immediately. They can also enjoy other services such as interconnectivity service (interconnectivity to a public cloud namely Amazon Web Services, Microsoft, and Google Cloud Platform directly) and Internet Exchange (IX) from any data center without having to be at the main IX service location. They can also enjoy the convenience of such services at an affordable cost.
For companies that require Multi-site Network Fabric service, including Direct Connect and Internet Exchange, please contact [email protected] or call +66 2-494-8300 for more information.