The One and Only! A Female Engineer at True IDC Has Been Appointed APN Ambassador by AWS
30 Nov 2021 //= substr($strYear,2,2)?>
Ms. Parichat Charoenchongsuk, Professional Service Manager at True IDC, the only female in APAC region who has been appointed the first and the only APN Ambassador in Thailand by Amazon Web Services, about her experience and technical duties at True IDC. She would like to inspire every female to pursue their desired careers. Even in a technical field, they too can step up as a successful Cloud Consulting team leader.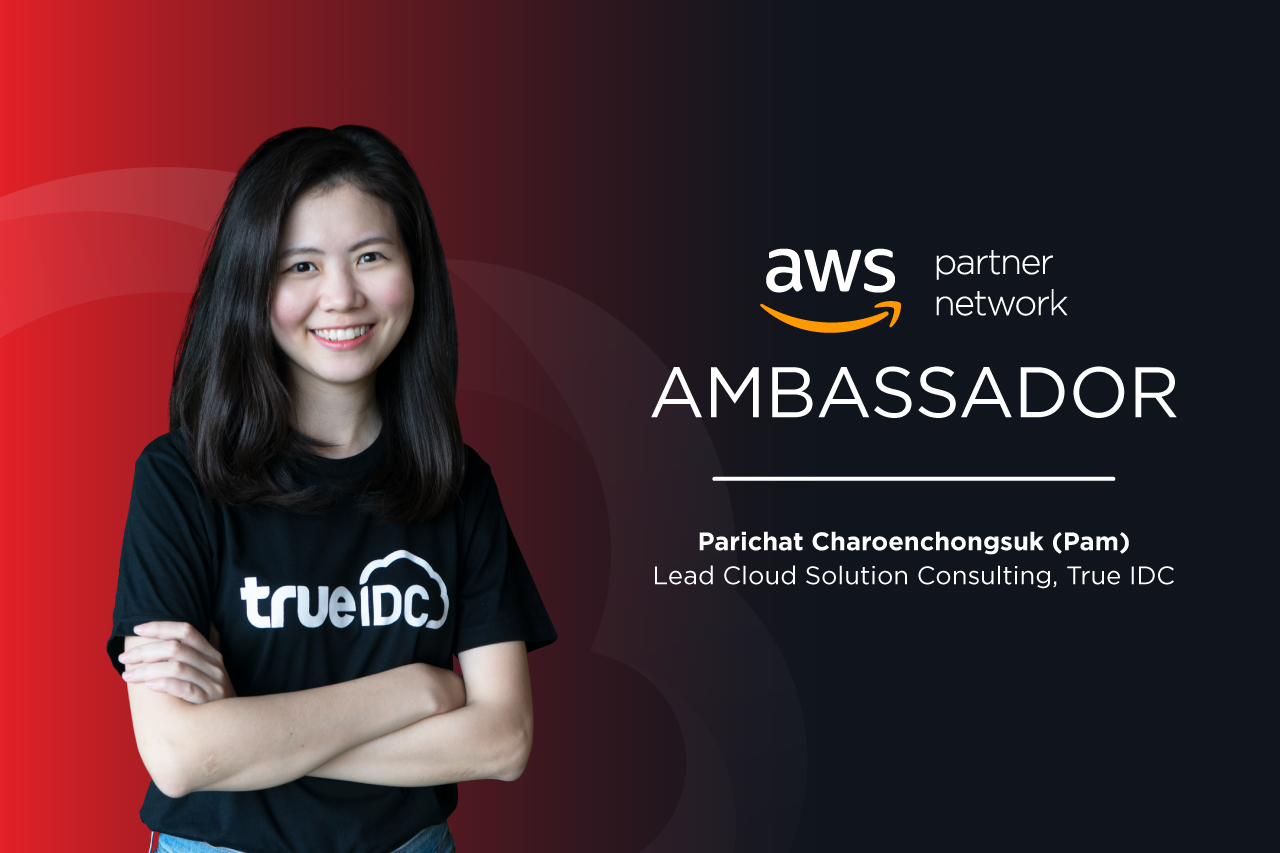 What is APN Ambassador?
But before discussing APN Ambassador, AWS Community should be explained.
AWS Community is the center that gathers AWS users, both clients and partners of AWS, with the purpose of interchanging information, jointly solving problems, and organizing events to update AWS knowledge and share new AWS technologies, where AWS Hero represents the user side while APN Ambassador represents the partner side. Both sides of the representatives are distinguished individuals who provide knowledge, advice, and solutions to AWS Community members.
However, not every partner would make an APN Ambassador. Besides being AWS's official partner, one needs to have at least 2 professional or specialty-level certifications to guarantee his/her in-depth knowledge and expertise in AWS solutions. The person should have a passion for building up and contributing to the growth of AWS Community, especially by periodically sharing his/her knowledge with the community through different channel including blogs, open-source projects, and public speaking. At the time of this article, Ms. Parichat Charoenchongsuk, Professional Service Manager at True IDC, is the first Thai person and the only female in APAC among 227 candidates from all over the world to have been appointed APN Ambassador by Amazon Web Services.
APN Ambassador's Role and AWS Community Development
Regarding APN Ambassador's role and responsibilities, Ms. Parichat Charoenchongsuk states that there is no special duty besides constantly sharing knowledge with AWS Community the same way as what she has been doing. The more knowledges shared with the community members, especially through identifying new Use Cases or solving challenging problems, the further the community development will have.
"It would be easier to understand if we look at APN Ambassadorship as a certified stamp of AWS Community. When an APN Ambassador answers questions or shares knowledge, we can be assured that the person is a truly knowledgeable, and extensively experienced official partner of AWS who has AWS technical certificate to guarantee," Ms. Parichat Charoenchongsuk describes the role of an APN Ambassador.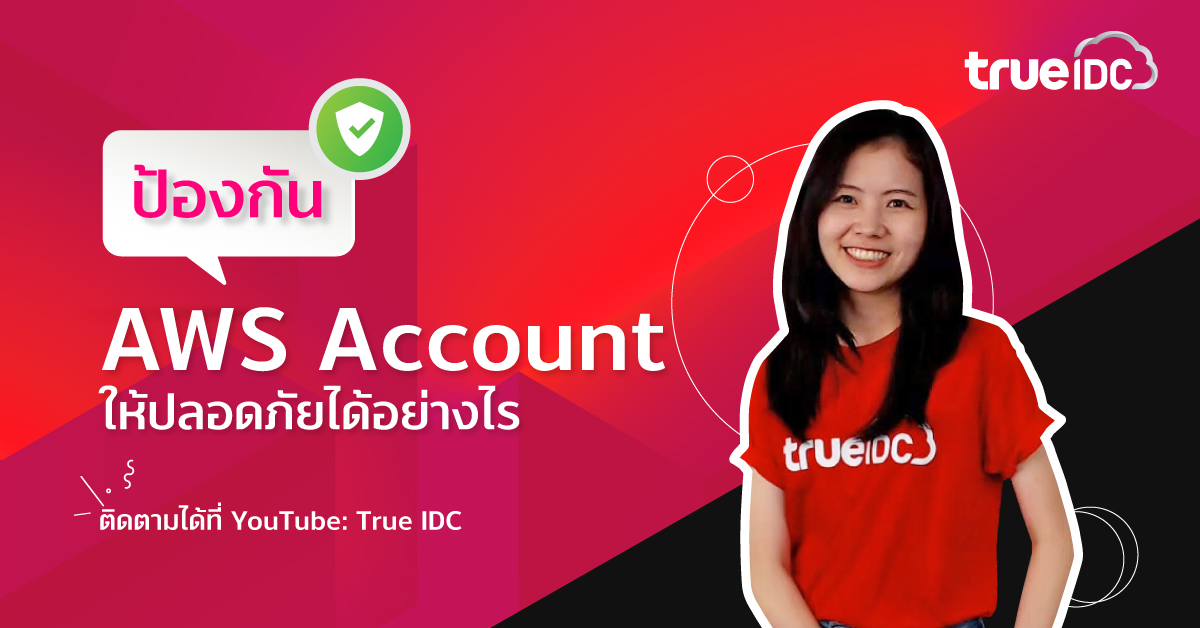 Better Access to Knowledge and Faster Application
Ms. Parichat Charoenchongsuk indicates that a benefit of being an APN Ambassador is the better and faster access to AWS information than anyone else. New knowledges are shared with APN Ambassador first so that they can transfer the knowledges to AWS Community. Moreover, there are seminars that are organized specially to help APN Ambassadors identify more variety of Use Cases that can be applied to the clients in Thailand more quickly. Certainly, these knowledges and experiences will be used for AWS clients of True IDC first as well.
"Anyone can become an APN Ambassador or an AWS Hero, regardless of your gender, age, and race, as long as you have the passion, continue to learn and correctly share what you know with others," Ms. Parichat Charoenchongsuk gives a suggestion to those who would like to become an APN Ambassador or an AWS Hero.
True IDC Always Ready to Provide Equal Support to All Employees
As for True IDC, Ms. Parichat Charoenchongsuk reveals that the company supports every employee to do what they are interested in and is always ready to provide support for their learning and skill training through its internal human resource training programs. If external training or certification examinations deem necessary, the company would be happy to support as well. Furthermore, True IDC always allows the opportunity for its employees to come up with new work approaches, with the belief that the more potential the company's personnel hold, the more rewards True IDC clients will receive, which would eventually return to the company in the form of trust.
"Personally, I don't feel being a female working in the technical field constitutes more pressure or obstacles than usual. Nowadays, most companies no longer have gender discrimination. Even I have become the leader of the Professional Service team at True IDC. Also, our clients do not expect any less capability in providing support or less expertise from a female than from a male. Therefore, I would like to encourage everyone to do what they love to do, as long as we are ready to learn and be trained. Regardless of our work types, we can be successful, not only as an APN Ambassador or an AWS Hero, but also as a team leader," Ms. Parichat Charoenchongsuk directs her encouragement to female individuals who would like to work in the technical field.
To follow Ms. Parichat Charoenchongsuk's articles and knowledge sharing, please go to YouTube: True IDC and Medium
Thank you: Techtalkthai