True IDC wins the "2017 Thailand Data Center Service Provider of the Year" award
04 Apr 2017 //= substr($strYear,2,2)?>
World-class data center that supports the transition to digital business
The world of business is moving from the traditional way of doing business to doing more digital business cause in many organizations changing themselves to survive and search new opportunities. The transition to digital systems is inevitable.
However, the 'Data Center' which is like the heart of an IT infrastructure must have the capacity to handle the work or complicated services, also require high processing capacity. At the same time, it could be flexible and scalable the size of the system. All of these capabilities have to be exchanged with higher investments and more complex systems.
True Internet Data Center (True IDC), a leading Data Center and Cloud service provider in Thailand. We aware that the change and challenges that various organizations are facing. Therefore, True IDC focus on bringing modern technology and equipment that has world class standards for service with care from a professional team as an alternative to help organizations to drive business and also effectively support the transition to your digital system without the need for huge investments.
True IDC, guaranteed with quality award
เRecently, True IDC Data Center Company Limited (True IDC) received the Frost & Sullivan Thailand Excellence Awards 2017 in the category of Data Center Service Organization or '2017 Thailand Data Center Service Provider of the Year' with excellence in Data Center business operations, technological capabilities, customer service innovation, service development, and new innovations continuously.
Highlight of True IDC
True IDC; Data Center service provider which certified by Uptime Institute with over 10 years of experience serving large corporate clients. In addition, it has been certified to 5 international standards including ISO 20000-1, ISO 27001, ISO 22301, ISO 50001 and CSA STAR Cloud Security, also being Data Center Service Providers in fully integrated cloud computing (One Stop Shop)

Data Center Services from True IDC that you can trusted
All the data centers are located in a prominent strategic location. regards to convenient transportation, locate in safe area from disaster and rioting. Data Center has been designed with international architectural standards Including Bang Na Center, Muang Thong Thani Center, True Tower I and II Center, and SUPERNAP, the first tier 4 Gold Data Center in Asia.
Carrier Neutral Connection
True IDC is ready to provide service to connect with all Carrier Providers or telecommunication network providers both domestically and internationally around the world. By focusing on openness to choose the free service (Carrier Neutral) as well as connecting directly with the service provider of the bandwidth, allowing to manage the channel freely.
International standard electrical system
รThe electrical system is designed to support continuous operation according to international standards which consists of connecting to 2 Metropolitan Electricity Generating Units with a high voltage of 24,000 volts, 12 megawatts that supports both direct current and alternating current with UPS and N+1 generator 16.5 megawatts that can generate electricity to use at all times.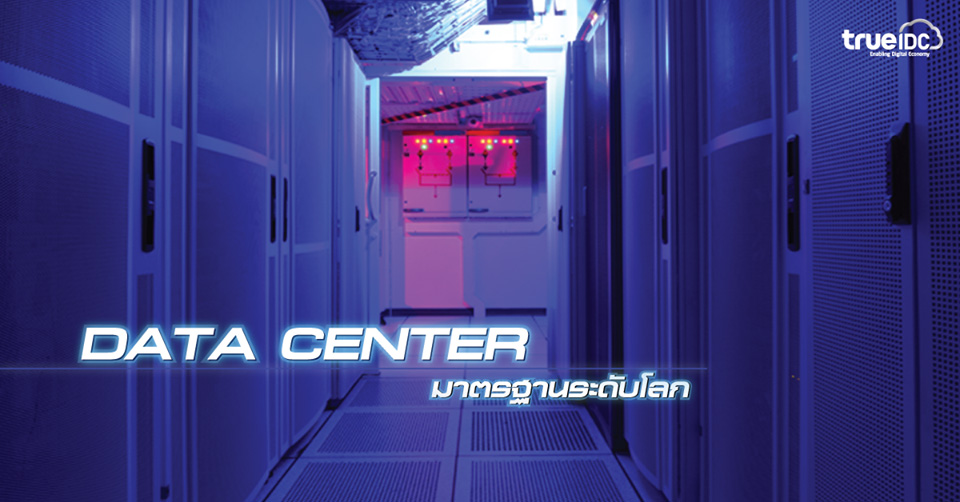 High efficiency and work automatic air conditioning system
Air conditioning system can control the temperature and humidity automatically to support the operation of the server and equipment in the data center properly by having perfect air circulation with Hot Aisle Containment System and Energy Management System with Water Cooling Technology that is cooled by water which works in conjunction with controlling the amount of liquid also known as "Variable Speed ​​Drive" (VSD). As well as precision air-condition systems that control temperature and humidity precisely.
Reliable fire protection system
Fire protection system is another system that True IDC attaches great importance. To ensure that the installed system is safe from fire problems with a real-time fire alarm via the display screen which works with high sensitivity smoke detectors installed in both VESDA (Very Early Detector Apparatus) and HSSD (High Sensitivity Smoke Detector). Allowing to be able to detect smoke up to 1,000 times more accurate than conventional systems. As well as a CFC Free fire control system in accordance with FM 200 and NOVEC standards that do not leave residue, environmentally friendly, not harmful to people and electronic devices.
Strict security system
To prevent unauthorized persons entering the area, True IDC has put in place measures and installed strict security systems in and out which consists of a system to verify the person to request access to the area with a website registration system and automatic Visitor Pass System, a high quality CCTV camera system that can detect comprehensive motion And clear both during the day and night, able to record and view record for up to 3 months, including security personnel 24 hours a day.
Network Monitoring Center
The Network Operation Center or NOC (Network Operation Center) will have expert staff to monitor the performance of the equipment. And maintain network systems in all data centers 24 hours a day.  
Guaranteed quality of Data Center service from past to present, including
2017 Frost & Sullivan Thailand Excellence Awards: Data Center Service Provider of the Year
2015 Frost & Sullivan Thailand Excellence Awards: Data Center Service Provider of the Year
2014 Frost & Sullivan Thailand Excellence Awards: Infrastructure as a Service Vendor of the Year
2013 Frost & Sullivan Thailand Excellence Awards: Infrastructure as a Service Vendor of the Year
2011 Frost & Sullivan Thailand Excellence Awards: Datacenter Service Provider of the Year
Reference: http://www.frost-apac.com/thailandawards/