Business expansion into Myanmar? True IDC – Myanmar ready to provide service
22 Jul 2020 //= substr($strYear,2,2)?>
For organizations and companies that plan to expand or start a new business in Myanmar, they can choose from Colocations, Managed Services, and ICT solutions that are appropriate to their business from the True IDC Myanmar Data Center. The services offered in Myanmar are of the same standards as offered in Thailand in terms of expertise, operations, and security.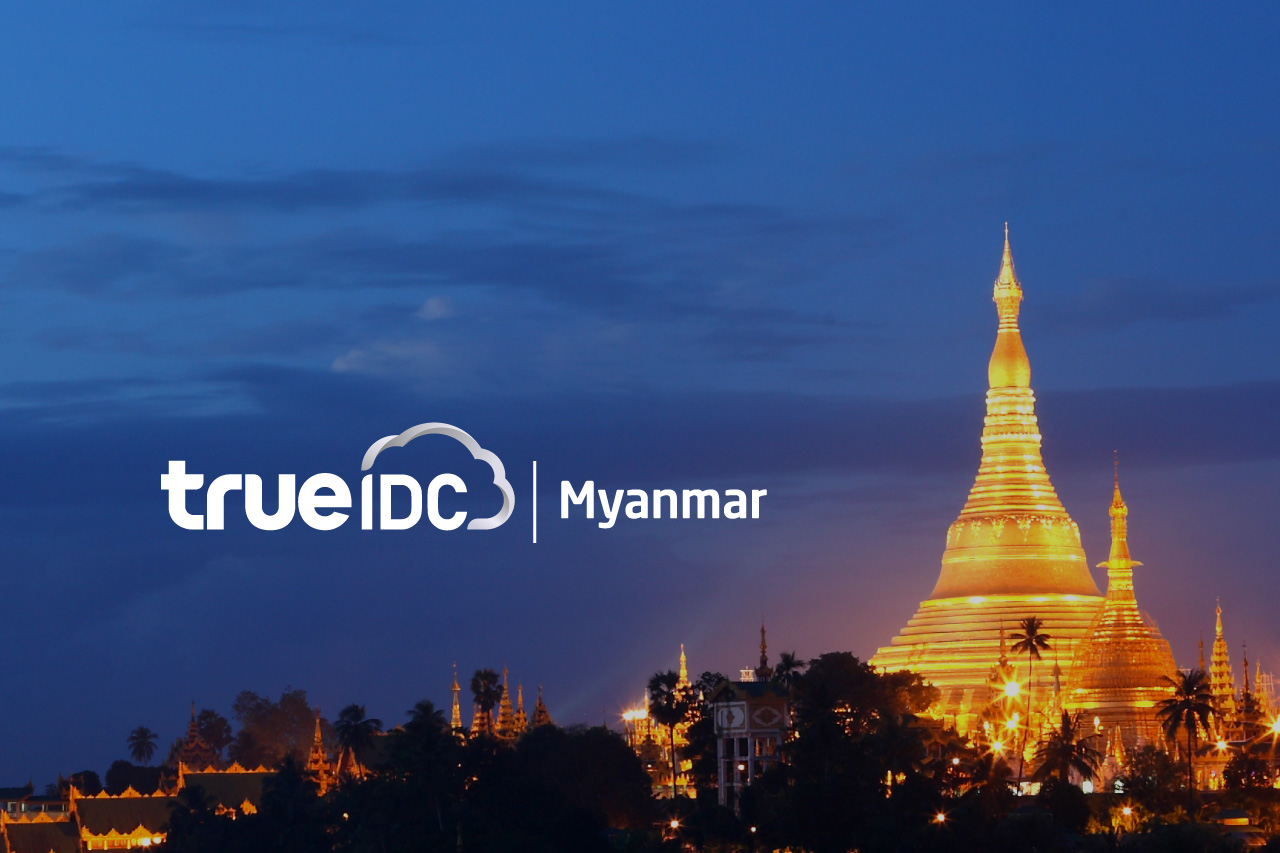 True IDC
-

Myanmar

provides Carrier Neutral

Data Center

services

True IDC - Myanmar was launched in 2015 as the first commercial Data Center from Thailand that invested in Myanmar with the goal of supporting digital business in the ASEAN region. This Data Center is located in MICT Park in downtown Yangon, which is the technology hub where many software companies and ICT service providers are located. The data center is only 20 minutes away from the airport.

True IDC - Myanmar offers a Carrier Neutral Data Center which is open to all service providers to freely connect their businesses. They also offer Internet Exchange (IX) service allowing a large variety of businesses, namely OTT service providers, to choose services from True IDC – Myanmar, including connectivity services.

"We found that most users in Myanmar increasingly use the internet on their mobile phones, fostering growth of Web Apps and Mobile Apps. As a Carrier Neutral Data Center, foreign investors have shown great interest in and chose the services of True IDC – Myanmar, making up to 80%. Meanwhile, 20% are local companies in Myanmar that are confident in the reputation of True IDC – Thailand," said Mr.  Amarin Burinkul, Chief Commercial Officer.




Colocation, Managed Services, and ICT solutions provider
True IDC – Myanmar offers 3 main services to both local and international clients/investors as follows:
Colocations

–

space rental service on Data Center of True IDC - Myanmar which was designed with the Uptime Tier III-equivalent standard and has all of the facilities including Network Operations Center (NOC) to provide 24/7 monitoring.

Managed Services

–

service to monitor and manage the client's Data Center in all aspects including Server & Storage, Network and Security.

ICT

Solutions

–

offer ICT solutions which adapts to address various industries demands especially in education, banking and financial institutions.




The Standardized Data Center as in Thailand
True IDC - Myanmar was designed with the same best practice Data Center standards as those in Thailand, which has received many certifications including Uptime, ISO/IEC 20000-1, ISO/IEC 27001, ISO 22301, ISO 50001, CSA STAR Cloud Security, PCI DSS as well as policies and work processes that meet the needs of a Business Continuity Plan (BCP). These standards were applied to True IDC – Myanmar to support operations, service continuity, and security, as well as meeting the SLA needs of businesses up to 99.90%.
Apart from True IDC's standards, up to 17 years of expertise and experience in management and engineering were passed along to True IDC – Myanmar.  The team of experts regularly pass on the knowledge in assessment and monitoring operations to ensure seamless service continuity and to ensure standards are met. True IDC – Myanmar offers services under the monitoring of the Regional Command Center of True IDC which has a team to monitor and analyze incidents 24/7.
"From our experience, most people in Myanmar view True IDC as a large foreign company that offers Carrier Neutral Data Center service which adheres to credible international standards. Many companies trust in the Data Center services of True IDC Myanmar," said Mr.  Amarin Burinkul, Chief Commercial Officer.




Top
Choice for companies that look to expand their business to Myanmar
As the market leader in Data Center & Cloud Service Provider, expanding services to neighboring countries in ASEAN has allowed True IDC to discover that in recent years, many foreign investors from many countries such as China, Singapore, Hong Kong, or even Thailand are investing in Myanmar. As businesses in Myanmar grow every year, True IDC – Myanmar is an excellent choice for businesses looking to expand their infrastructure and connectivity with comprehensive IT solutions to fulfil business expansion needs.
Lastly, True IDC has set a goal of becoming a leader in driving digital businesses in the AEC with its strengths as the One-Stop Shop for IT services. Establishing a branch in Myanmar has allowed True IDC to assess businesses, analyze, and invest more efficiently, as well as applying its experience in the future.  
For more information, visit True IDC – Myanmar at  https://www.trueidc.com/en/myanmar