True IDC captures AWS End User Computing (EUC) Competency and launches Work From Anywhere solution
16 Oct 2020 //= substr($strYear,2,2)?>
The impact of COVID-19 has continued to affect businesses around the world. Many have adopted a Cloud system to quickly respond to these rapid changes. Many have become accustomed to the concept of Work from Anywhere, which has become a new working norm even after COVID-19 subsides. Gartner has forecast the growth of investments in Desktop as a Service (DaaS) at 95.4% or about 1.2 million USD.*
In response to increased demand, True IDC has launched an End User Computing on AWS, which gathers all solutions that function as a Remote & Work From Anywhere 100% on a Cloud certified by AWS, ensuring agility and security.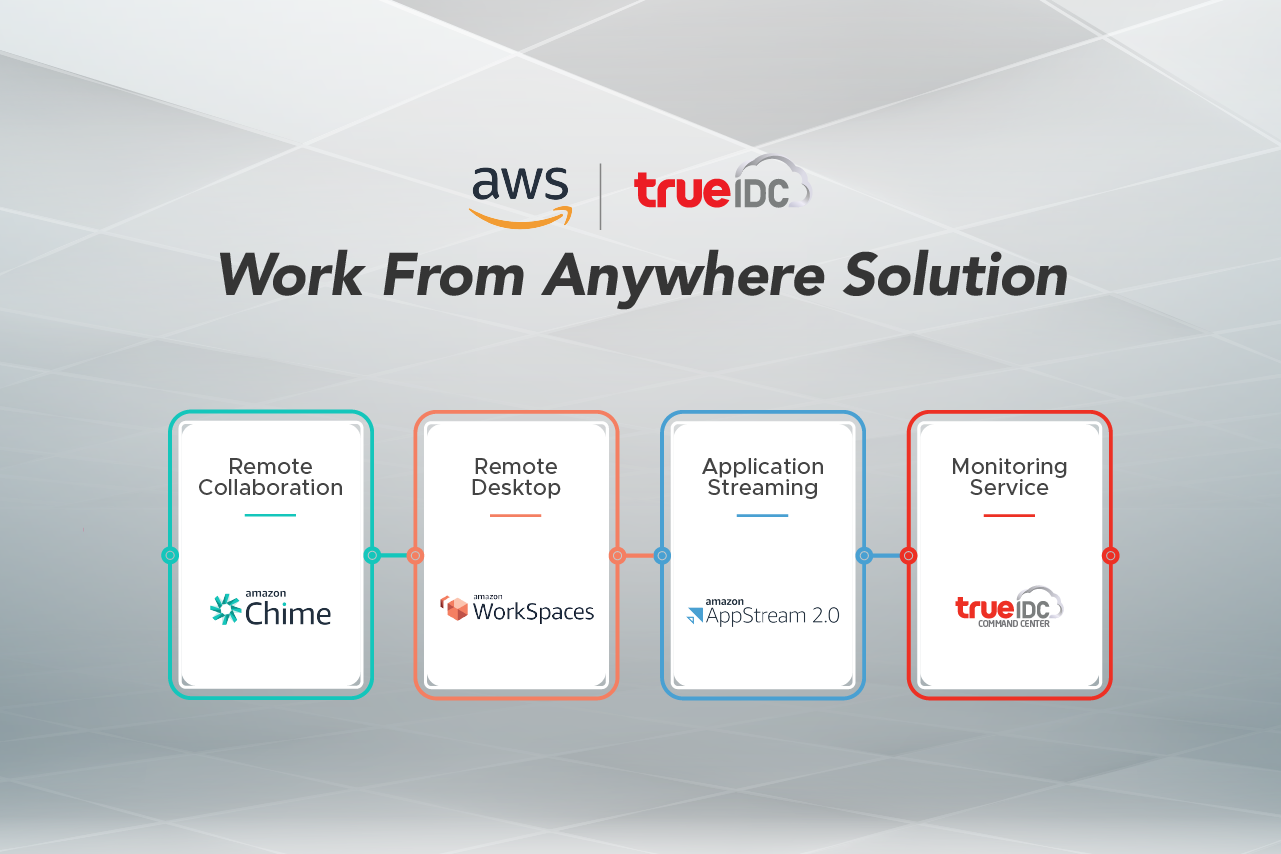 Work From Anywhere effectively with comprehensive solutions on a Cloud
True IDC, a leading Data Center and Cloud service provider in Thailand, launches Remote & Work from Anywhere with True IDC to support work from anywhere and anytime to allow staff of all companies to access data and applications, as well as to communicate via Collaboration Tools, Cloud Storage, Virtual Desktop Infrastructure (VDI), App Streaming or Remote Support, etc. Solutions are bundled together to help companies get started with Work from Anywhere and be fully functional in just 1 week!
True IDC's package is in line with the Validated Design of Amazon Web Services, ensuring clients of its capability, efficiency, and security.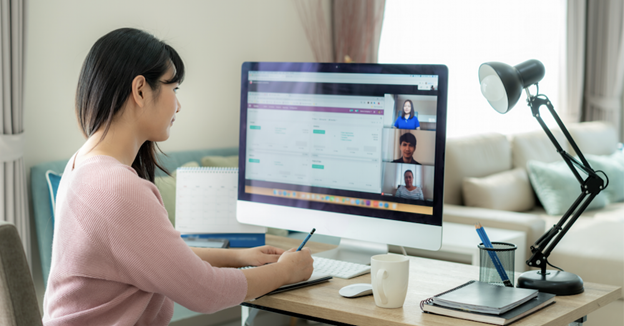 The first and only Thai service provider with certified AWS End User Computing (EUC) Competency
The Remote & Work from Anywhere solution package on Amazon Web Services Cloud that True IDC has ready to serve comprises 2 components including:
1. Amazon WorkSpaces for Desktop as a Service helps staff working via mobile devices and long distances to be able to access applications as needed, to prepare Windows or Linux desktops within minutes for many users.
2. Amazon AppStream 2.0 for App Streaming can centralize application management and sent to all computers securely and can be adjusted to fit the number of users without having to prepare hardware or infrastructure.
True IDC is the first and only Thai service provider with AWS End User Computing (EUC) Competency to ensure True IDC's expertise to offer consultation and offer services relating to solutions for Remote & Work from Anywhere from Amazon Web Services. Clients will benefit from the following services:
• Start Work from Anywhere within 1 week
• Reduce capital expense on hardware and maintenance costs of such systems
• Centralize the management of all systems
• Reduce risk of data leakage outside of the company
• Add or remove functionalities with flexibility
• Support from a team of experts in Thailand which is convenient, fast, and can be done in both Thai and English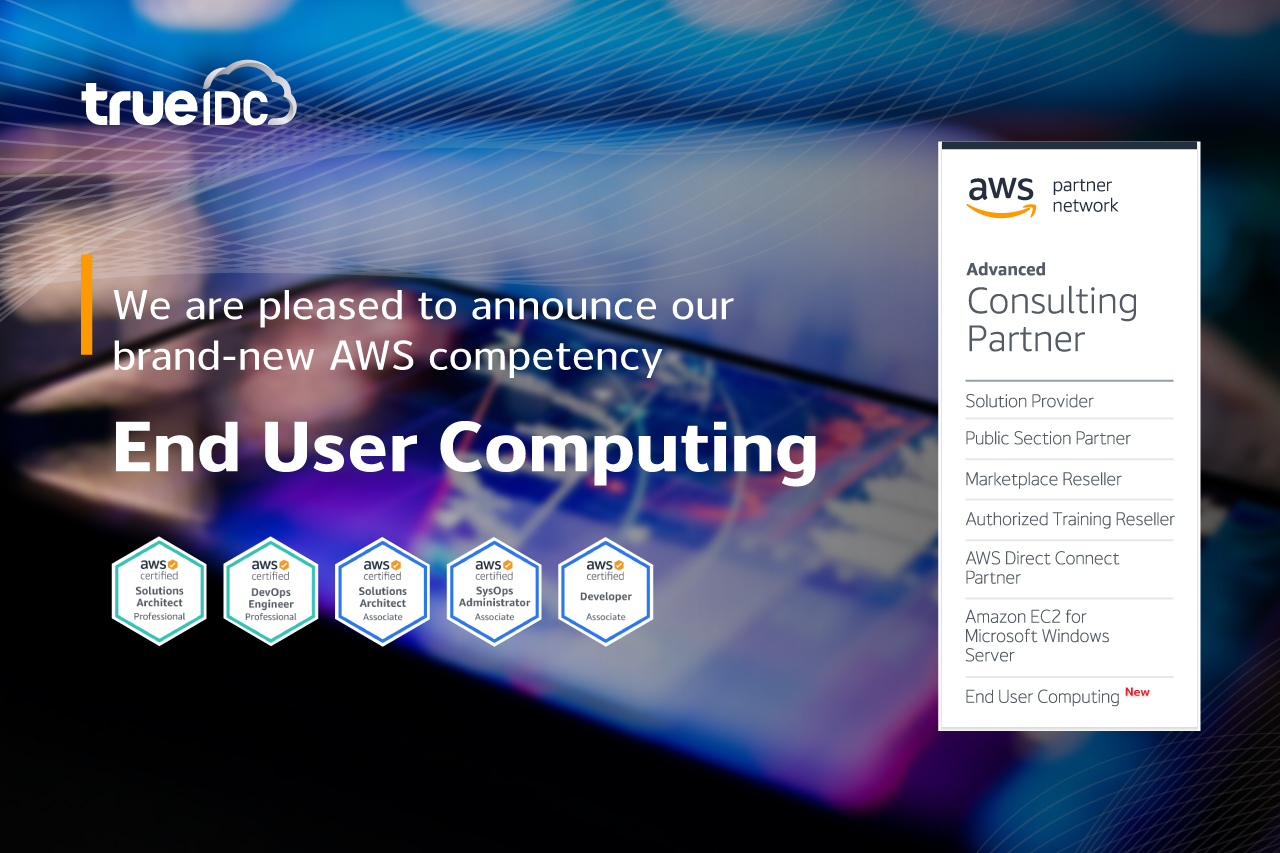 One of the service providers that have the most certifications from Amazon Web Services in Thailand
True IDC has partnered with Amazon Web Services for over 6 years, offering a variety of solutions and innovations to meet the needs of all industries. This includes developing experts for comprehensive consultation and support from business analysis, design and system installation, migration workload to a cloud, functionality adjustments to fit the needs of actual usage at the most efficient cost, as well as after-sales services by a team of experienced expert engineers. This has contributed to True IDC having been named the Advanced Technology Partner and Advanced Consulting Partner with certifications in Solution Provider, Public Sector Partner AWS Direct Connect Partner, Amazon EC2 for Microsoft Windows Server, and End User Computing.
Apart from that, a team of True IDC engineers have passed training and received various certifications such as Solutions Architect Professional and DevOps Engineer Professional which ensures their expertise in offering solutions of Amazon Web Services to achieve business objectives for clients of every industry, especially government agencies and education institutions.
Security support to ensure the safety of your systems
In addition to End User Computing on AWS for Remote and Work from Anywhere functionalities, True IDC also offers additional support services to raise the level of security and enhance business continuity such as:
• Backup as a Service: backup and recovery service for servers on cloud systems
• Disaster Recovery as a Service: backup center on a cloud to manage unpredictable events
• Security as a Service: DDoS Protection service to protect Web Apps and Cloud systems
• Mobile Device Management: mobile device management and control system to support offsite work
• Single Sign-on: Single Sign-on service for IT & System administrators to enhance convenience and speed of management services on multi-cloud and mobile services.
Companies interested in Work from Anywhere services of True IDC can contact True IDC to request details at [email protected] or call Tel. 02 494 8300.