Migrate to AWS Cloud Now…and Get a Chance to Win Free 3-month Cloud Credits
10 Mar 2021 //= substr($strYear,2,2)?>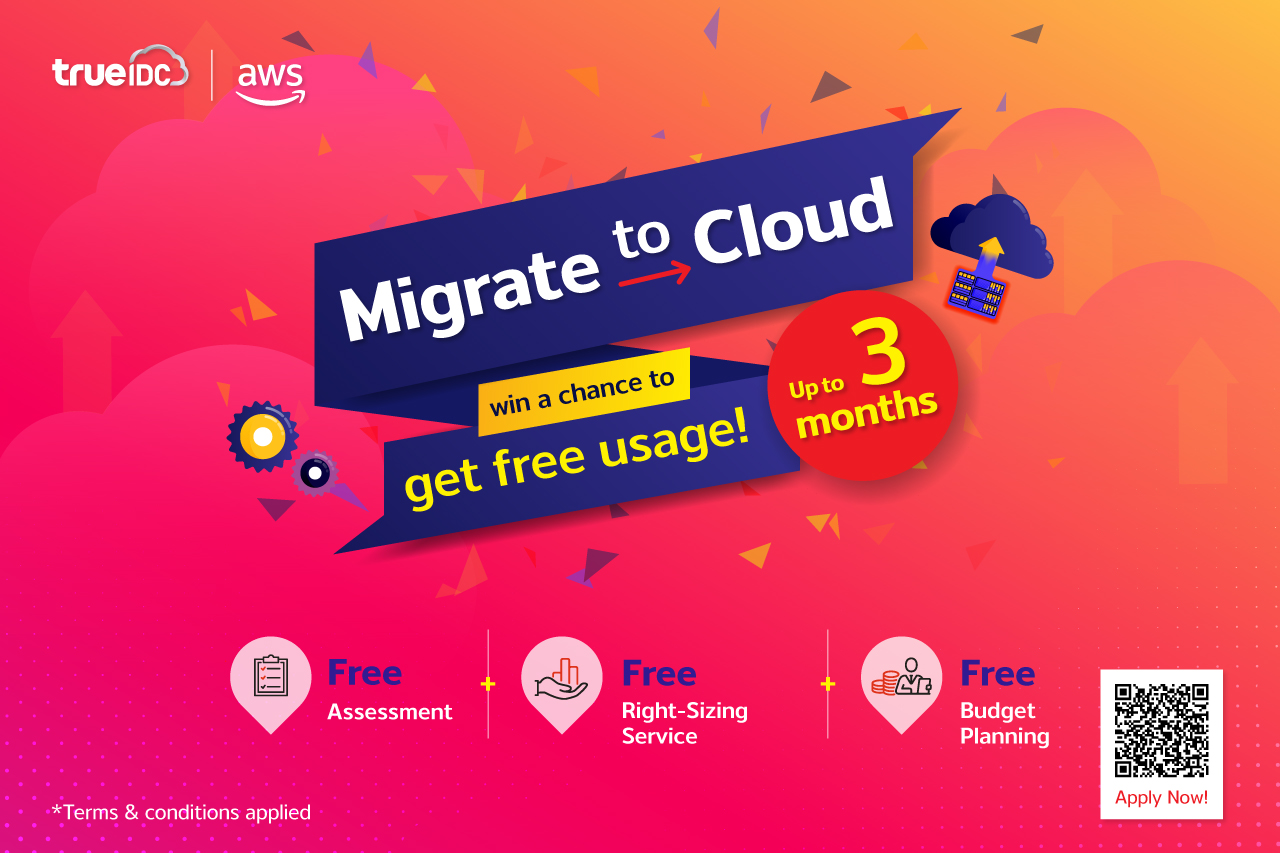 True IDC's latest promotion campaign of "Migrate to AWS Cloud? Migrate Now!" allows you to seamlessly migrate from on-premises environment to cloud and gives you a chance to win free 3-month cloud credits* in addition to the following privileges;
FREE

Cloud Migration Assessment: Help assess and provide an overall guideline whether migrating from on-premise or local cloud environments to AWS Public Cloud.

FREE

Budget Planning: Cost estimation delivered in advance to support your decision. 

FREE

Right-Sizing Service: Consultation service on the AWS Cloud consumption patterns to help control cloud costs by analyzing instance performance and usage.
What are the Benefits of Migrating to AWS Cloud with True IDC?
To ensure you of our impeccable services, True IDC would like to offer you the following benefits;
Increased flexibility and effectiveness through the actual usage.
Expenditure saved from the hefty initial investment in the server and its perpetual maintenance costs by opting for pay-per-use model.
A wide array of services to meet all business demands that allow easy adjustment of your selected services at your fingertips.
Net 30-day payment terms issued with explicitly specified exchange rates and tax invoice, instead of payment via corporate credit card.
Procurement process and legal process that confirm to universal standards of leading organizations.
Interested in Migrating to AWS Cloud?
Please fill in the registration form at https://bit.ly/register-aws-migration in order to for True IDC team to contact you within 3 working days.
*Terms and Conditions
This promotion is valid until June 30, 2021.
This offer is for customers with minimum $500 per one billing cycle only.
This offer is for customers who use AWS Billing through True IDC only.
This promotion is not applicable for government agencies or banking and finance firms.
True IDC will be in charge of registering all users applying for the free 3-month services that would be granted upon AWS' selection and approval.