True IDC is Officially Appointed as "Google Cloud Premier Partner" And the "First Google Interconnect Partner", Bringing Google Cloud Services to the Next Level
27 Sep 2021 //= substr($strYear,2,2)?>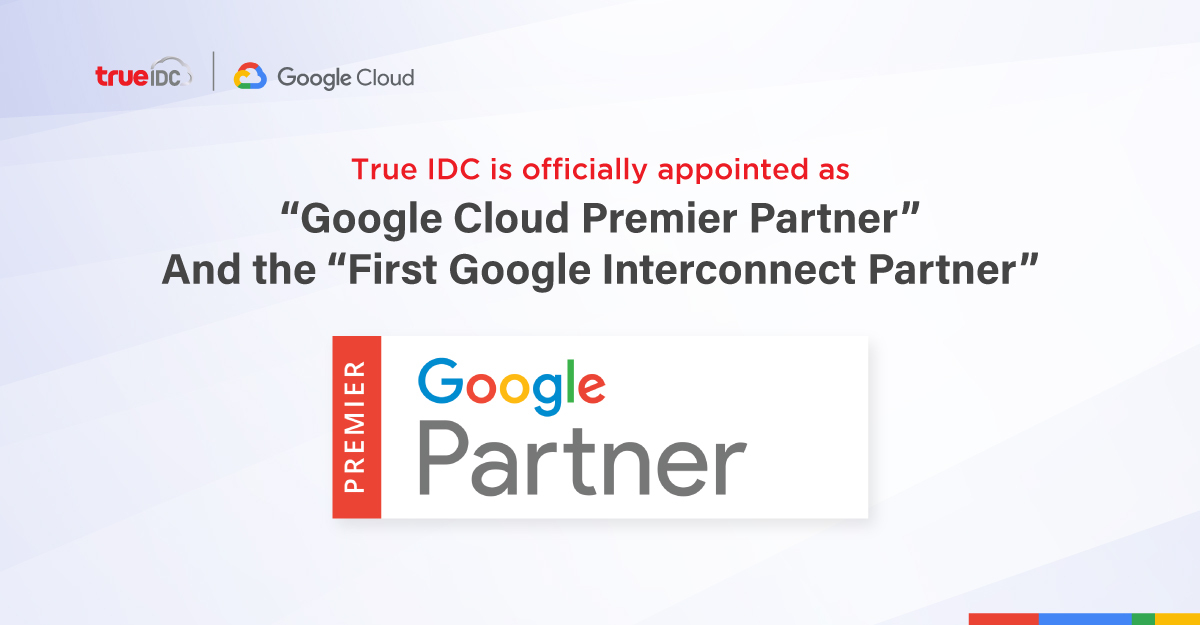 How True IDC Started Providing Google Cloud Service
True IDC was one of the first service providers in Thailand to provide its own Enterprise Cloud service and international Public Cloud service. After Cloud technology had become more developed and more popular, many other Public Cloud service providers started to enter the market. Each of which had its own strength, prompting many organizations to use multi-Cloud strategy in order to choose the most suitable Cloud system to each of their services or applications. Then, when AI, Analytics and Cloud Container technologies began to gain a foothold, True IDC decided to create a partnership with Google, whose forte had been in such technologies, and started providing Google Could service in 2019.
Google Cloud Solutions Offered by True IDC Include the Following:
• Google Cloud (formerly known as Google Cloud Platform: GCP) – IaaS, PaaS and SaaS with Analytics as its main feature such as BigQuery, Cloud Data Warehouse Platform among others.
• Google Cloud Interconnect – A connection service that provides direct connectivity between a customer's on-premises network and Google Cloud network to minimize latency and increase stability and security while supporting hybrid Cloud operation.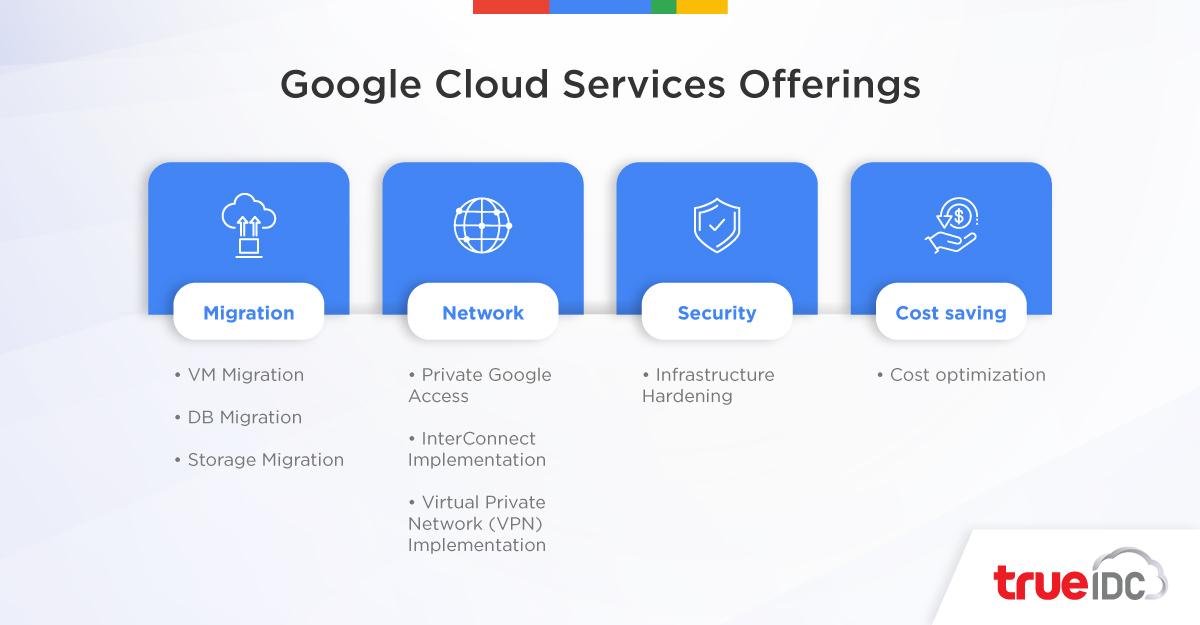 Promotion to a Premier Partnership
True IDC entered a partnership with Google Cloud and officially commenced the service in 2019. In the meantime, True IDC had been developing its personnel on both sales and technical sides by enrolling them in advanced certifying training programs while expanding the market and continually increasing the services to its customers. Then, in 2021, having met all the requirements, True IDC has been appointed a Premier Partner which is the highest rank of Google Cloud partnership.
As guaranteed by the promotion to Google Cloud Premier Partner, our customers can rest assured that True IDC can apply our long experience in delivering the superior services to them through our teams of experts who have been granted a professional certificate from Google Cloud. Being Google's Premier Partner, True IDC also receives special supports from Google Cloud beyond what is given to other ordinary partners such as Google Cloud's dedicated team particularly to support True IDC and its customers.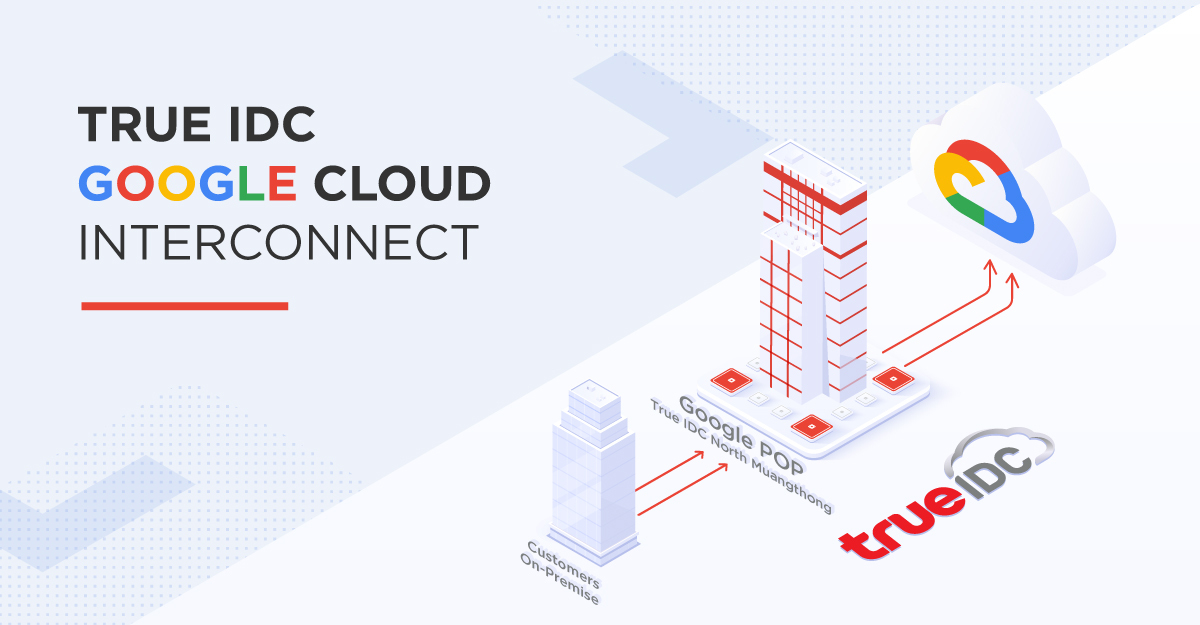 The Only Interconnect Partner that Directly Connects to Google Cloud Network in Thailand
Google Cloud Interconnect is a connection service that extends an organization's on-premises network directly to Google's Public Cloud network. True IDC is the only Interconnect Partner that can directly link to Google's PoP (Point of Presence) which is the interface point that connects to Google Cloud network in Thailand while other partners must link to Google Cloud network overseas through an international link. As a result, the connectivity provided by True IDC offers more efficiency, stability, security, and cost-efficiency than that of other Interconnect Partners.
Currently, True IDC has two 10G links between its core network and Google Cloud's PoP, contributing world-class quality services. Besides, True IDC has constructed Multi-Site Network Fabric, allowing its customers the liberty to select any of True IDC data centers to directly connect to Google Cloud, adding more flexibility and convenience for the customers using Google Cloud.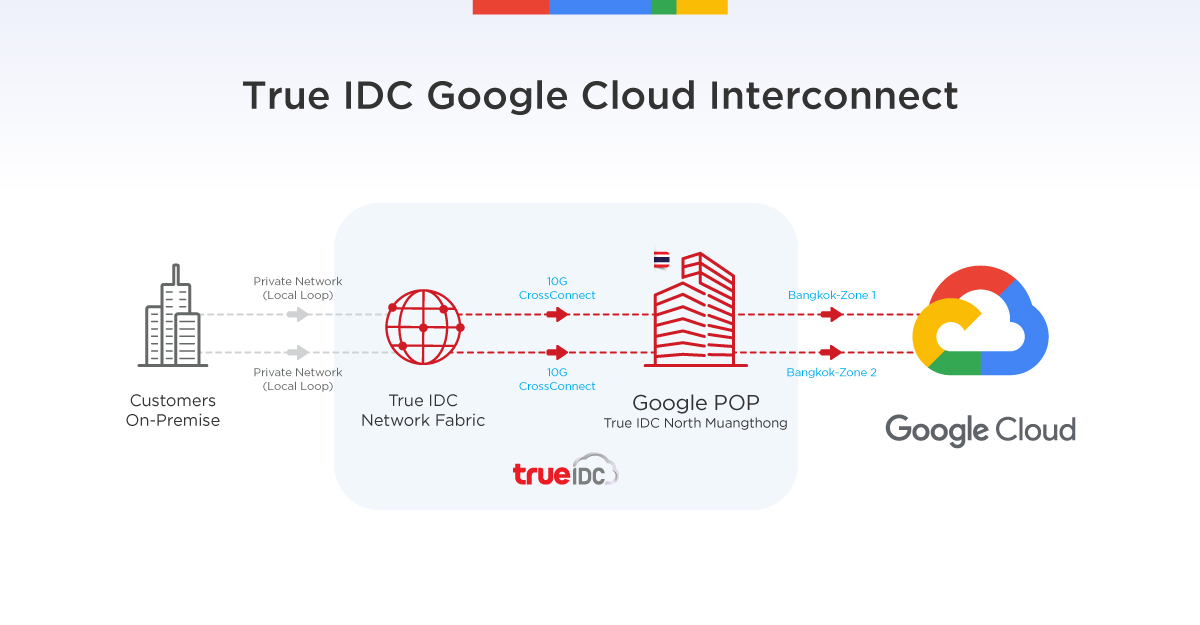 Offering a Full Range of Google Cloud Services Through Teams of Experts 
Having offered Cloud services including Private Cloud, Enterprise Cloud and Public Cloud for more than 10 years, True IDC can apply their expertise in offering Google Cloud service so efficiently that it has been promoted from an ordinary partner to a Premier Partner in a relatively short period of time. Presently, True IDC offers a full range of Google Cloud services covering giving consultation, analyzing business demand, designing and installing a new system, migrating from the old system to the new system as well as providing after-sales and managed services through teams of experts who have been trained and granted a professional-level certificate from Google Cloud.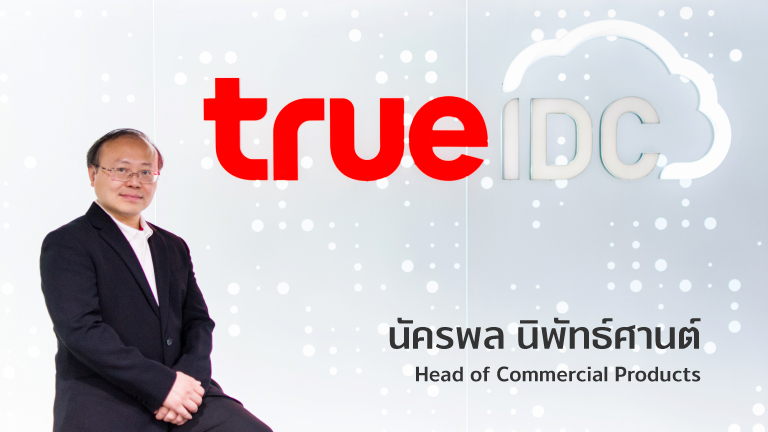 Besides Google Cloud, True IDC also offers a lot of leading Public Cloud services to increase its competitiveness, further its leadership in providing such services and meet the current multi-Cloud demand of various organizations.
"We hope to be the leading Cloud service provider in Thailand that offers both domestic Cloud and overseas Public Cloud services. For domestic Cloud service, we try to increase our abilities to better respond to our customers' needs. As for overseas Public Cloud service, we have joined a partnership with many world-class service providers and offered multi-Cloud services as well as building direct connectivity to those providers in order to meet various demands of the customers in this digital era," stated Mr. Nakapol Nipatsant, Head of Commercial Products of True IDC.